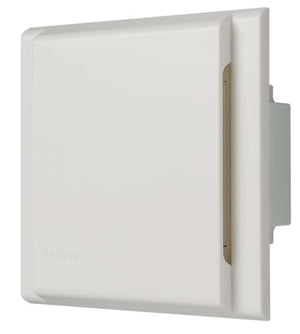 When it comes to using a doorbell, things can't be much simpler: push a button. Installing one is another matter, but Broan-Nutone has found a way to simplify that. The company's new Line Voltage Doorbell builder's kit has a built-in transformer and a wireless, battery-free kinetic pushbutton for quick, easy installation.
That gives homeowners a choice of the traditional wired line—which goes directly to line voltage to save installation time—or the kinetic wireless, which requires no batteries or power lines running outside the house. This is a huge timesaver for installers. And it's a great convenience for the homeowner.
Each variety of Line Voltage has other unique features. The wired doorbell can also be paired with two other doors using the kinetic version. The wireless unit has eight different tones to select from, while the wired unit offers distinct front and back tones. And, the wired unit's buttons include long-lasting LED bulbs, ensuring that house guests are never left in the dark.
For more information: www.broan-nutone.com