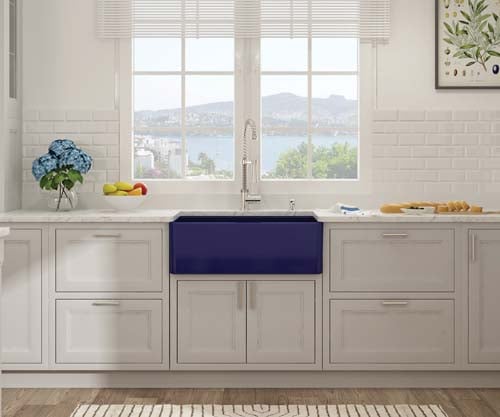 Want a cast iron sink without limited design? Take a look at Bocchi's Classico 30, an apparent stylish twin to the ever-faithful dark metal basin found in many homes. But there's more than meets the eye with Classico 30, starting with its composition. The sink's chief component is fireclay, a 100 percent organic and recyclable material. What material? Mud.
Thanks to intense heat—think 2,000 degrees Fahrenheit—and a number of other natural elements, the mud has been turned into a non-porous, scratch-resistant material that fits into a traditional sink opening in the kitchen. And of course, it's heat resistant, meaning there is no problem placing that piping hot pan or pot directly from the stove oven onto the surface.
The item is also constructed without a lip, making it possible to simply wipe items into the basin from the counter, and it's finished on all four sides, making it reversible. It's available in traditional colors such as matte white, as well as more-unique (and eye-popping) finishes such as sapphire blue.
For more information: www.bocchiusa.com