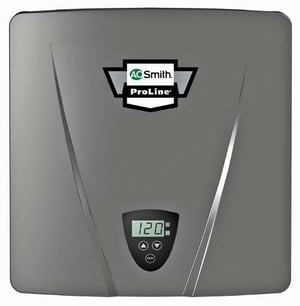 A.O. Smith's ProLine Electric Tankless water heater line is the company's first foray into on-demand electric hot water. That entry includes smart features like "Dry Fire Protection," which ensures that the heating element will not turn on unless the tank is full of water.
Key to this innovation is a pre-heat function that reduces the call for a large "surge" of electricity when water is called for. This "soft start power draw" makes sure that the lights in the home do not dim during a heavy power draw. The largest unit in the family, the four-chamber model, can produce up to 4.25 gallons of hot water per minute—enough to support 2.5 baths in a whole-home or multi-family application. The two-chamber design is ideal for applications where the heater is close to where the hot water is being used, such as remote laundry rooms, guest houses or other accessory dwelling units (ADUs).
Also, all models have Scale Reduction Technology, which reduces scale formation on the elements and on the chamber walls, extending durability of the unit. And, the units do not contain moving parts or screens—further reducing the likelihood of scale-related service problems.
For more information: www.hotwater.com