From smart appliances to synthetic fuels, sustainability efforts are a renewable thing.
Bosch, it seems, has its hands in everything. The green building industry knows the company for its smart appliances, smart sensors and energy-efficient power tools. The public enjoys catchy products, such as electric bikes and synthetic fuels. There are programs that enable consumers to rent power-smart appliances, a home delivery service where riders on e-cargo bikes pick up recycling, a paperless electronics plant, a sensor program that tells farmers when they can apply pesticides to their crops, and more. What else is there for the technology services giant to do?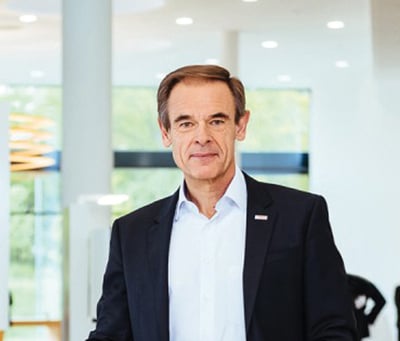 "We see supporting the goals of the Paris Agreement as our responsibility, and we aim to do this with sustainable products, and, above all, by taking immediate action ourselves." Volkmar Denner, CEO/Chairman of the Board of Management
According to CEO and Chairman Volkmar Denner, plenty. The company's goals in the next few years stem from some of its current accomplishments. Those include reaching carbon neutral status by 2020—the greenhouse gasses the company produces has already dropped by 31.1 percent compared to 2007, with a target of 35 percent by end of next year; dropping waste production by 6.9 percent (already down 3.5 percent from 2015); using 6.9 percent less water (currently at 6.3 percent lower from 2015); conducting 1,000 environmental and safety audit from 2010 to 2020 (only 138 more to go); and having 40 percent of its power consumption sustained by renewable energy such as solar and wind by 2030.
Being so close to reaching current goals, Bosch has established another half-dozen for the next six years. Known as "New Dimensions—Sustainability 2025," the campaign sets "megatrends" targets for climate (via long-term supply agreements with only green energy providers and purchases of high-quality, "Gold Standard" CO2 certificates), energy (behind a $1.14 billion promotional and public education effort), water (25 percent reduction in extremely water-scarce areas, such as Brazil and India), urbanization (with additional emphasis on reducing hazardous waste and increasing its material recycling rate), globalization (such as by more clearly identifying the ecological and social risks in its supplier network) and health (such as protecting people and the environment by ensuring that banned or hazardous substances).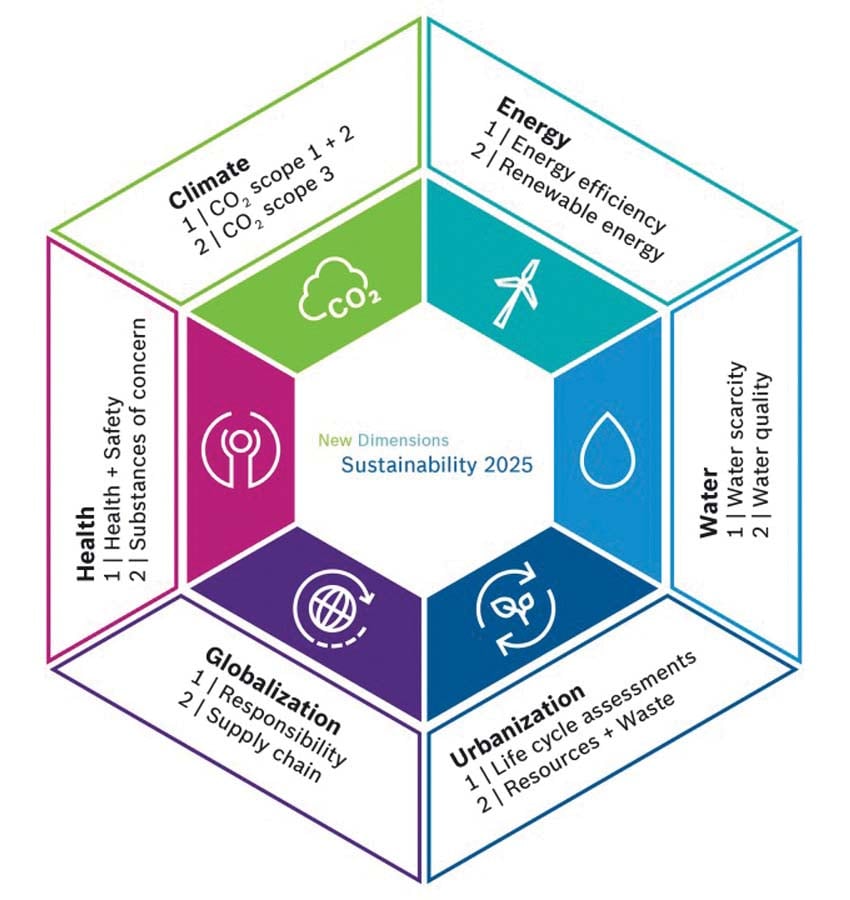 ---