Sustainability has many facets—as this company's portfolio shows.
Ingersoll-Rand specializes in creating comfortable, sustainable and efficient environments. The $14 billion company and its family of brands—including Club Car, Ingersoll Rand, Thermo King and Trane—help enhance the quality and comfort of air in homes and buildings; transport and protect food and perishables; and increase industrial productivity and efficiency. The company is headquartered in Davidson, N.C.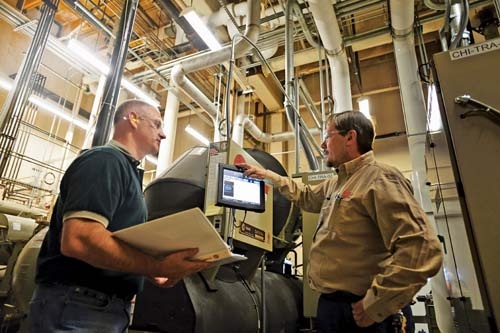 Upgraded building controls helped Ingersoll Rand reduce energy use by the equivalent of 26 million unburned pounds of coal and powering 1,750 homes for one year.
As part of its global "Climate Commitment," Ingersoll Rand committed to a 35 percent reduction of its greenhouse gas (GHG) footprint from its own operations by 2020. To deliver on this goal, the company targeted a 10 percent increase in energy efficiency from a 2013 baseline—and has achieved the goal in 2018, two years ahead of schedule. This milestone reduces energy use and the company's impact on the environment, and enhances sustainable value for its customers.
Part of this effort called for Ingersoll Rand to conduct an energy audit of its own large facilities and upgraded air conditioning systems, building controls and lighting. It also eliminated energy leakage from its compressed air systems while measuring, validating and reporting the results. It reduced energy use by 109,000 MMBTUs and electricity consumption by 22,000 MWh, which is the equivalent of not burning 26 million pounds of coal and powering 1,750 homes for one year, according to the company.
Ingersoll Rand also replaced electricity generated from fossil fuels with that produced from renewable resources—another key factor in addressing climate change, as well as creating long-term value for Ingersoll Rand employees and its customers.
In addition to on-site renewable energy sources, Ingersoll Rand has signed a power purchase agreement (PPA) for approximately 100,000 MWh of wind power annually. The wind farm is in Baylor County, Texas. The PPA replaces 32 percent of the company's U.S. electricity use with green energy, and reduces U.S. Scope 2 GHG Emissions from Electricity by 32 percent. This is the equivalent of recycling 26,000 tons of waste instead of sending it to a landfill, and preserving 600 acres of U.S. forests.
They're an Eco-Leader because...
More than 90 percent of Ingersoll Rand's product portfolio addresses demands for greater energy efficiency with lower greenhouse gas (GHG) emissions in buildings, homes, industrial spaces and transport markets around the world.
The company's EcoWise portfolio of products is designed to lower environmental impact with next-generation, low-GWP refrigerants and high-efficiency operation. The products must be at least five percent more efficient than the minimum standard, where standards apply.
Ingersoll Rand has a 2020 goal to generate five percent of revenue from products that meet world class environmental criteria: water, electricity and fuel consumption from the use of the product.
Trane, an Ingersoll Rand brand, recently worked with the Science Museum of Minnesota and lowered the building's carbon footprint and reduce its energy costs. The project exceeded expectations by surpassing its original goal of 75 percent of hot water heat savings since installation and by decreasing the amount of energy supply used in the community. In the future, the implemented smart design practices and energy-efficient systems are projected to save the museum more than $300,000 in annual operating costs.
---