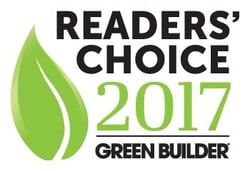 Green Builder Media's 2017 Readers' Choice Awards
What do green professionals perceive as the most sustainable building products and brands? Find out now.
OUR GREEN BRAND SURVEY consistently ranks as one of the most widely read articles we publish. If you know builders and architects, this makes sense. They rely to a large degree on the recommendations of their peers to make product choices. Of course, those selections depend a lot more on whether a product is "sustainable." It has to be durable, reliable, predictable and (sometimes) affordable. This is what makes a survey of green pros different from a consumer survey. Their priorities are different. When they choose Ford trucks over Toyota, it's not about a "gut feeling," it's because of personal experience. They like the way the vehicles perform, and how they save fuel and maintenance costs. As you review their responses, keep in mind that these are people who field test products for a living.
See the slideshow below our featured winners for the complete results.