Wind power usage is on the way up for this insulation and green roofing leader.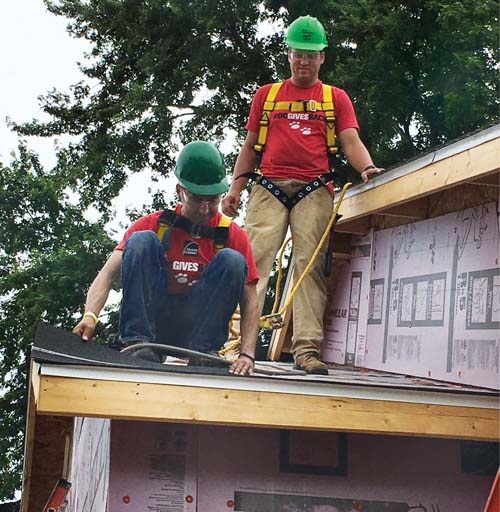 Owens Corning partnered with Habitat for Humanity and World Vision to build safe, energy-efficient housing for approximately 1,500 low-income families worldwide.
Company Profile
Founded: 1938
Headquarters: Toledo, Ohio
Leadership: Michael Thaman, CEO
Products and Services: Fiberglass composites, insulation and roofing. Products range from glass fiber used to reinforce composite materials for transportation, electronics, marine, infrastructure, wind energy and other high-performance markets to insulation and roofing for residential, commercial and industrial applications.
Employees: 17,000+
Website: www.owenscorning.com
Considered a world leader in fiberglass composites, insulation and roofing, Owens Corning in 2016 introduced the world's first Asthma and Allergy Foundation of America-certified, asthma- and allergy-friendly building product for its new Pure Safety high-performance insulation product.
The product is mold and mildew resistant and produces up to 65 percent less dust, according to Julian Francis, president of Owens Corning's insulation business. "Caring about indoor air quality is just one way Owens Corning is committed to leveraging our building science expertise and insulation systems to create better, more sustainable, more comfortable homes," he says.
Eco-Friendly Products
Along these lines, the company also earned Living Product Imperative Certification for two of its insulation products—also a first in the industry. This rigorous multi-attribute certification boosted product transparency with Declare labels for Owens Corning's EcoTouch and unbonded loosefill insulation products, and earning a Cradle to Cradle Material Health Certification for its Foamular extruded polystyrene insulation.
On the community front, Owens Corning partnered with Habitat for Humanity and World Vision to donate building materials, financial support and employee volunteerism to build safe, energy-efficient housing for approximately 1,500 low-income families in the U.S., Canada and China.
And as part of the company's Roof Deployment Project—matching Owens Corning Roofing Platinum Preferred Contractors with U.S. military and veterans' families around the country—dozens of free roofs are being delivered and installed this year.
Power Packed—–and Ahead of Schedule
Meanwhile, back home, Owens Corning began purchasing power from 250 megawatts of new wind power capacity, the equivalent of electrical generation for more than 65,000 U.S. homes. And with a continued focus on environmental footprint reduction, the company has successfully reduced particulate matter emissions and water use by 23 percent and 37 percent, respectively. This is relative to 2010 levels and has already exceeded the company's 2020 goals, according to Francis.
---
© 2017, Green Builder Media. All rights reserved. This article is the exclusive property of Green Builder Media. If you would like to reprint this content, you are free to extract a short excerpt (no more than 1/4th of the total article), as long as you 1. credit the author, and 2. include a live link back to the original post on our site. Please contact a member of our editorial staff if you need more information.