Here are a few other firms that are expanding their commitment to sustainability —and product lines.
By Alan Naditz and Barbara Horwitz-Bennett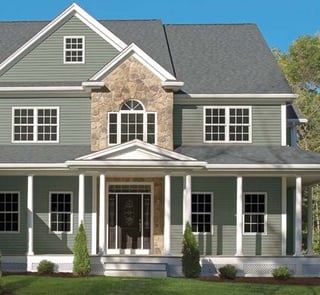 Who says the ultra-big guys are the only ones that can be considered Eco-Leaders? Lots of other companies, public and private, are giving it a go. Here are a few of them.
Ply Gem
Recycled content, net-zero waste management and employee suggestions are this company's hidden treasures.
Sporting a Home Innovation National Green Building Standard Green Certified mark on nearly all of its products, Ply Gem—North America's largest maker of vinyl siding, and vinyl and aluminum windows—includes at least 76 percent recycled content in those products, per the certification. Its aluminum gutter and downspout products contain at least 85 percent recycled content. And, 95 percent or more of all scrap materials in 40 manufacturing plants throughout the U.S. and Canada are recycled.
Similarly, nearly all Ply Gem products are Energy Star certified.
But the company's efforts go beyond how its products are manufactured. It empowers its associates to discover ways to minimize the company's environmental footprint in its manufacturing facilities through "energy treasure hunts."
Teams of employees have successfully implemented more than 30 projects contributing to overall energy reduction. These best practices are being shared across the organization and with the company's supplier partners to impact the full supply chain, officials note.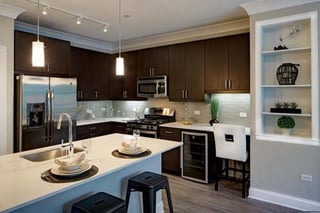 AMLI Residential
'Living green' is the mantra of AMLI residents—and the company is happy to oblige.
With many renters using green amenities as a deciding factor toward where to live, Chicago-based multi-family real estate firm AMLI Residential stresses the sustainable assets among its 63-plus properties and 21,000-plus apartment homes. Green traits include each complex's energy-efficient windows and LED lighting, EPA WaterSense plumbing features, HVAC filtration systems, Energy Star appliances, community recycling programs, and, in many cases, its LEED certification. Close to half of AMLI's properties are LEED certified and 15 are Energy Star certified, the company reports.
Additional enviro-friendly features are tailored to specific apartment complexes. The recently opened AMLI Deerfield site includes bike storage, electric car charging stations, easy public transit access, and AMLI Breatheasy smoke-free community status. There's even a resident garden. Renters are treated to visits by professional gardeners who educate them on how to eat healthier. They also provide bi-weekly harvests for renters to enjoy.
Education is a key to the company's success, according to AMLI Senior Vice President of Development Jennifer Wolf. "Residents feel comfortable knowing that they live in an apartment community that reflects their lifestyle and values of being environmentally conscious," she says. "We're always looking for innovative and engaging ways to educate our residents on the importance of green living."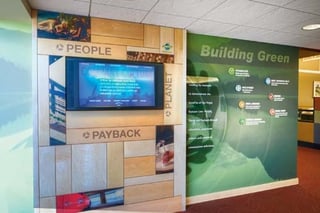 Miron Construction Co.
A reminder a day keeps eco-friendly status in play.
Sustainability is a big deal. The almost century-old Miron Construction Co. likes to remind employees of that fact, and they don't seem to mind. The Neenah, Wisc.-based builder displays "the triple bottom line" of "people, planet and payback" prominently in its offices. It also emphasizes the practice through education, corporate culture and practical construction solutions.
One way is via the company's participation in the national "Cool Choices" program, a fun, social and easy online platform that encourages employees to make choices that embrace sustainability, according to Theresa Lehman, Miron's director of sustainable services.
Miron piloted the program in 2010 and 2011, and created a card game modeled after the LEED rating system. Participants get points for making "cool choices"—actions that save money and help the environment. The game has since become tech-friendly in an easy-to-use app. "The intent is to get people excited and interested in making personal, sustainable choices and experience the triple-bottom-line benefits that enhance their health and well-being, reduce energy use in their home and vehicles, and minimize environmental impacts," Lehman says. The company recently completed another run through the Cool Choices program; this one showcased the connection between personal health and building design. It also encouraged employees to participate in daily sustainable, cost-reducing practices at home and in the workplace.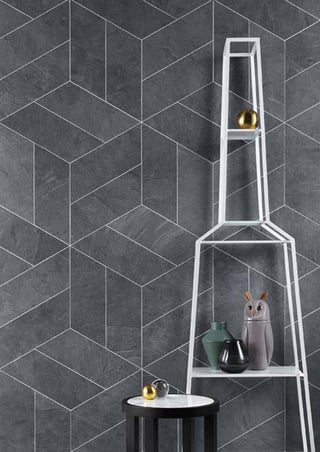 Ceramics of Italy
This tile product is all natural and all green, all the time.
Don't be fooled by the name. Ceramics of Italy, an association of 150 tile manufacturers and sanitaryware companies, includes an American presence. Each of them also carries Environment Product Declaration status, a tile industry designation that the association developed to recognize a company's dedication to sustainability.
According to the association, each member is required to meet a level of eco-sustainability in all of their products. This can be demonstrated in various ways, from products such as Ardosolar System by Ardogres, which converts sunlight to electric power for high-tech ceramic slate roof coverings, to Lea Ceramiche's Waterfall tile with near-permanent Microban antimicrobial technology integrated into the product during manufacturing.
"Porcelain tiles have the lowest environmental impact over their entire lifecycle," the association notes. "Therefore, it becomes essential for each tile collection to lead in green technology."
---
© 2017, Green Builder Media. All rights reserved. This article is the exclusive property of Green Builder Media. If you would like to reprint this content, you are free to extract a short excerpt (no more than 1/4th of the total article), as long as you 1. credit the author, and 2. include a live link back to the original post on our site. Please contact a member of our editorial staff if you need more information.