Company Profile
Founded: 1985 by Dr. Richard Swanson
Headquarters: San Jose, CA
Leadership: Tom Werner, President and CEO
Products and Services: Design, manufacturing, monitoring and maintenance of solar installations for residential, commercial and utility customers; financing for residential and commercial arrays.
Employees: 6,320
Website: us.sunpower.com
IN THE 1970S, Dr. Richard Swanson, pondering how to best deal with the oil crisis, took on the challenge of making solar cells that were more cost-effective. By 1985, Dr. Swanson, by then a professor of electrical engineering at Stanford, had been awarded grants from the Electric Power Research Institute and the U.S. Department of Energy to support his solar power explorations. Today, SunPower Corp. designs, manufactures and delivers the most efficient and reliable solar panels and systems available, which are used in projects ranging from rooftop arrays to utility-scale power plants. The company provides solar solutions to homeowners, businesses, government and utilities, who rely on SunPower's 30 years of experience and guaranteed performance to provide maximum return on investment throughout the life of their systems. SunPower also provides residential and commercial customers with financing options and connects them with certified installers. Headquartered in San Jose, CA, the company has offices in South America, Europe, Australia, Africa and Asia.
Superior Efficiency, Responsible Manufacturing
SunPower makes two lines of residential solar modules: the X-Series and E-Series. The X-Series claims an industry-leading 21.5 percent efficiency rating. Both lines are Cradle to Cradle Silver-certified and are covered by a 25-year performance and power warranty. Under normal use, SunPower expects its modules will exceed their warranty period and perform for another 15 years, extending their expected usable life to 40 years. Once the warranty expires, SunPower customers can participate in a worldwide program that pays for the recycling of their systems.
"As a steward of the environment, SunPower takes responsibility for our products throughout their entire lifecycle, right up through their end of life," says Marty Neese, SunPower's chief operating officer. "We are committed to being a responsible producer and provide appropriate reuse and recycling options for our products."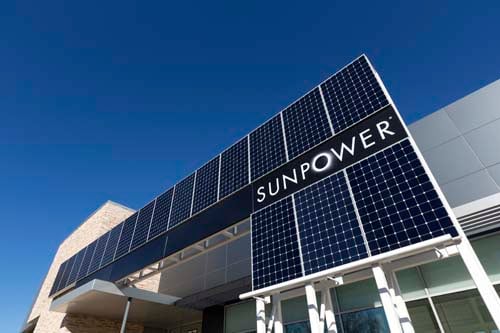 SunPower is a member of Circular Economy 100, providing thought leadership and innovation expertise that will help speed the transition to a circular economy.
SunPower works with customers to cover the costs for removal, collection, reuse and recycling for all purchased and leased systems under the warranty period. Functional items are reused and non-functional items are sent to approved recyclers. In Europe, the company participates in PV Cycle, an industry-wide solar panel take-back and recycling program.
SunPower is in the process of adding circular economy, Cradle to Cradle and upcycling design principles into its product development process, so that greenhouse gases, waste, water and the re-use of materials are managed from concept to full-scale production.
"Embedding these principles in our day-to-day core processes ensure they are not one-off initiatives, rather, they are our value-based 'way of working,'" says Neese.
Setting Goals
Year over year, SunPower has established baseline targets of a 5 percent reduction in both operational energy and greenhouse gas emissions and a 10 percent reduction in water consumption and waste generation.
The company's factories are in the process of becoming "triple certified" to LEED, Cradle to Cradle and Zero Waste to Landfill standards. The aim is to achieve at least two of these certifications by the end of 2015 and all three by the end of 2016.
"We think that waste is a design challenge, and we're actively exploring ways where we can design waste out of our system," says Neese. The company just certified its first zero waste-to-landfill site, a module assembly plant in Mexico. The plant's team has lowered its waste disposal costs by more than 50 percent in its first year alone. Strategies include working with suppliers to improve inbound packaging and finding more ways to recycle and "upcycle" process waste for re-purposing as ingredients in non-solar products. The facility has also incorporated reusable food containers and composting.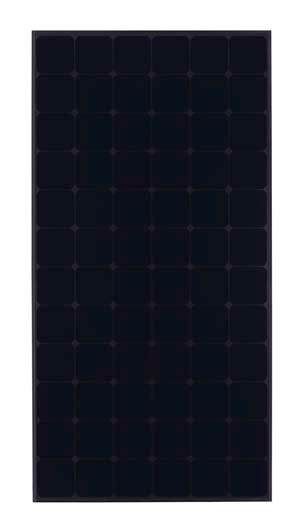 SunPower's X-Series residential solar panels boast an industry-leading 21.5 percent efficiency rating.
SunPower is working to reduce its carbon footprint in a variety of ways, including a portfolio of employee-driven carbon reduction projects across all of the company's manufacturing sites. The 60-plus ongoing projects include smart commuting initiatives in Malaysia and the Philippines and improved logistics carbon tracking worldwide. Not surprisingly, renewable energy is one of SunPower's strategies, and the company has installed arrays at its San Jose headquarters and at its facilities in Mexicali, Mexico and Malaysia.
"Our long-term goals—which we're working to make short-term goals—include increasing our total energy percent from renewables and taking programs that we've seen implemented at our Mexicali manufacturing plant to other factories," says Neese.
On a broader scale, SunPower is working to help both residential and commercial customers reduce emissions with solar installations around the globe. The company has set a target of 10 GW deployed by 2016, and is well on its way to meeting it.
As just one example, SunPower recently designed and built a solar generating station at Stanford University. The station is expected to provide half of all campus electricity; the college's overall efforts will help cut its greenhouse gas emissions by 68 percent.
Reducing Water
SunPower has installed a High Efficiency Reverse Osmosis (HERO) system at two of its manufacturing facilities, saving 450 million gallons of fresh water per year. The company also saved more than 114,000 gallons per year by reclaiming water from final rinse tools, processing it into deionized water for its metallization operations at a manufacturing facility. For use in landscaping and cooling tower replenishment, SunPower captures condensate water from its make-up air units.
"We also approach the operations and maintenance of our customer installations with water conservation in mind," says Neese. "As an example of this, we utilize robots to clean solar panels at utility-scale installations." The robots use 75 percent less water than cleaning by hand.
In addition, the company is seeking ways to eliminate water in some of its end-to-end process steps, replacing them with lower cost, more capable, "dry processing" alternatives.
Education Plus Clean Energy
SunPower has made a commitment to focus its community efforts on programs that foster local learning and growth.
"From teacher training programs to curriculum development and summer internships, we are helping our communities build a strong foundation from which to foster solar technology education and professional development," says Neese. "We are giving high school students first-hand access to our industry, helping them to see the direct benefits of STEM [science, technology, engineering and mathematics] education and to learn about career paths in solar."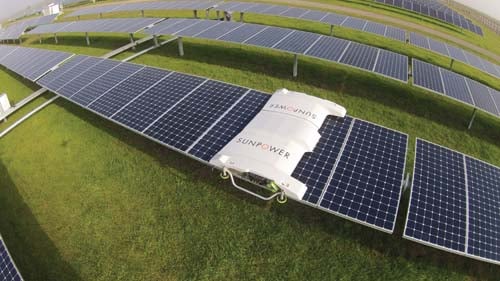 The robots used to clean SunPower's large-scale installations reduce water use by 75 percent.
Solar partnerships can save school district operating budgets money while expanding student exposure to renewable energy technology and skills. SunPower has installed and operates solar systems throughout 60 school districts in the U.S.
The SunPower Foundation is a non-profit foundation focused on developing and distributing solar power education tools, funding non-profits that promote the use of solar and providing employees and partners with opportunities to support community-based solar initiatives.
For example, SunPower has partnered with GRID Alternatives, a non-profit solar installer, to install over 1,700 solar systems, with the help of 8,000 trained community volunteers (including SunPower employees). These solar systems are expected to save $44 million in energy costs over their projected lifespans.
SunPower also supports the Alliance for Mindanao Off-Grid Renewable Energy, or AMORE. This rural electrification program energizes remote, off-grid rural communities in Mindanao, an island in the Philippines, using stand-alone renewable energy systems such as solar photovoltaic and micro-hydro technology.
Big Impact, Small Footprint
Making the world's most efficient solar panels means that SunPower produces more energy per customer per unit area.
"That isn't simply a competitive advantage; it's also an ecological advantage," says Neese. "We need roughly 30 percent less land to generate the same amount of power as a conventional system."
One of SunPower's large solar projects is the California Valley Solar Ranch (CVSR), a 250-megawatt photovoltaic solar electric system. The solar arrays, substation and facility buildings are confined to a footprint of just 1,500 acres. The remaining 3,200 acres, or about 70 percent of the site, is permanently set aside and managed as a conservation easement for a range of species.
The CVSR features SunPower's Oasis power plant technology, comprised of integrated modular blocks for quick installation. Trackers follow the sun's movement during the day, increasing sunlight capture by up to 25 percent over conventional fixed-tilt systems while significantly reducing land use requirements. The trackers sit on low-impact metal pier foundations that are driven directly into the ground.
SunPower's "light-on-land" approach respects and replenishes the land its systems share with plants and animals. In one recently announced project in China, Apple is partnering with SunPower to build solar projects in the ABA region. SunPower's dual-use approach will allow pasture farming to continue while generating 80 million kWh per year.
---
© 2015, Green Builder Media. All rights reserved. This article is the exclusive property of Green Builder Media. If you would like to reprint this content, you are free to extract a short excerpt (no more than 1/4th of the total article), as long as you 1. credit the author, and 2. include a live link back to the original post on our site. Please contact a member of our editorial staff if you need more information.