Company Profile
Founded: 1836 by Adolphe and Eugene Schneider
Headquarters: Rueil-Malmaison, France
Leadership: Jean Pascal-Tricoire, Chairman and CEO
Products and Services: Electricity distribution, automation management, service and components for energy management
Employees: 170,000+ in over 100 countries
Divisions/Markets: Infrastructure; Industry; IT; Partner & Building
Website: www.schneider-electric.com
SCHNEIDER ELECTRIC IS not just keeping on top of energy trends; it's driving them. The global company is a leader in developing and applying energy management solutions across a broad spectrum of markets.
Schneider Electric is involved in every aspect of energy, from electric vehicle charging solutions to emergency lighting to solar energy management—whether utility-sized solar farms or rooftop arrays for homes and small businesses. The company also provides products and services for industrial communications, data servers, audio-visual systems, all aspects of building management and much more. Schneider Electric recognizes its role in reducing global energy use through efficiency and is embracing digital technology for its potential role. In response to the trend of increasing urbanization, the company is also facilitating the transition to smart grids and smart cities. No wonder Schneider Electric has made it into the top ten companies on Corporate Knights' Global 100 list two years in a row.
Residential Energy Management
Residential energy may only comprise 10 percent of Schneider Electric's business, but the company takes the sector seriously. Recognizing the need to start planning for the future of energy management, the company launched its Wiser energy management solution in 2011. Earlier this year, it released its second iteration, called Wiser Air.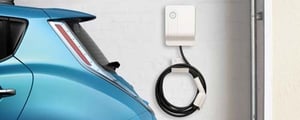 The EVlink Wallbox electric vehicle charging station from Schneider Electric comes as either a socket-outlet or attached cable unit.
The solution was developed with three value propositions in mind, says Yann Kulp, vice president of energy solutions for Schneider Electric. First, consumer engagement was critical.
"By and large, U.S. consumers are not motivated by energy concerns," admits Kulp. "If we don't have the right apps to serve as hooks—integrated weather data, for instance—they will ignore [the product]." Once customers are hooked, the solution delivers energy efficiency improvements through a purely online tool called Efficiency Advisor, which will create an energy model of a customer's home and deliver customized recommendations for cutting usage.
But the centerpiece of the updated Wiser Air is a "very cool thermostat," says Kulp. This Wi-Fi- and ZigBee-enabled learning thermostat not only allows users to program schedules, but learns users' habits over time and adjusts accordingly. The thermostat should be available through Amazon by the end of June.
The final value proposition encoded in Wiser Air is demand response, which is integrated into both the thermostat and the apps.
"We've made it as consumer-friendly as possible," says Kulp. For example, if a heat wave is coming, the app will send a notification asking if the user would like to participate or pass in lowering demand during the anticipated peak event. Over time, the software tracks participation, which could be important if the utility offers incentives for participating in demand response.
The solution helps create alignment between customers and the utility, says Kulp. "I think it's really important to have that information in plain language, because otherwise most people don't understand it."
Measuring Progress
Schneider Electric's Planet & Society Barometer "provides a measured and visible scorecard of company-wide commitments to meeting sustainable development challenges." Launched in 2002 and built around the three pillars of planet, people and profit, it has served as Schneider Electric's "sustainability report card" since 2005.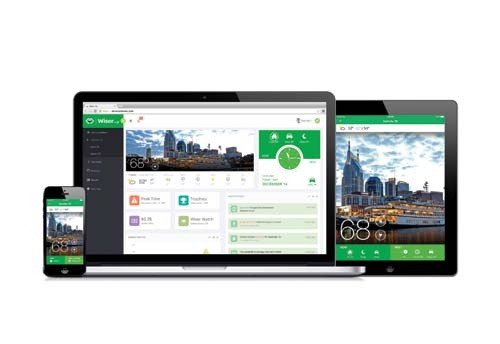 Wiser Air combines intuitive thermostat controls, powerful weather forecasting and alerting, informative messaging and customizable energy efficiency and peak demand experiences, delivering a unified digital experience across the thermostat, mobile, tablet and web interfaces.
"It's a very strong metric, and quite unique," says Michelle Redfield, director of environment and process improvement for Schneider Electric. "It helps keep us very focused." The company creates programs in three-to-five year cycles; a new cycle has just begun. One objective added this year is a zero waste to landfill goal for 100 sites. To qualify, sites will have to recover 99 percent or more of metal waste and 97 percent or more of other waste. Twenty-five sites already meet these criteria, including several in North America. Some are utilizing waste-to-energy as a solution.
The objectives also include goals for reducing operational energy. "Before the carbon [CO2] dilemma hit public consciousness, Schneider Electric had been working on its own energy solutions," says Redfield. "We are definitely drinking our own champagne." During the first 12 years of the program, the company reduced energy by 30 percent. Last year alone, its North American operations reduced energy use by 15 percent (normalized).
Schneider Electric is also participating in the Department of Energy's Superior Energy Performance (SEP) program under IS0 50001. To earn certification, facilities must implement an energy management system and demonstrate improved energy performance. The company's first certified facility was its plant in Smyrna, Tenn. Along with initiating a robust energy management program, Schneider Electric used its own engineering professionals, services and products to build a 1.0 MW solar farm in 2011. The solar farm generated over 1.1 million kilowatt hours (kWh) of renewable energy in 2013, and the plant has seen a combined 44.5 percent reduction in net electricity use from the solar farm and energy efficiency projects.
Green Premium Products
Products that have earned the company's internal Green Premium label have several components: an environmental profile based on life cycle assessment, end-of-life instructions and adherence to certain European regulations, such as REACH. In 2014, the percentage of revenues from Green Premium products surpassed the goal of 75 percent; Redfield says the company has set a new goal of 80 percent by 2017.
The company also provides tools to communicate information about its products with customers. An always-accessible digital tool enables customers to look up information about Green Premium products, which can help track the environmental footprint of products and infrastructure and assure regulatory compliance.
Schneider Electric is aiming to design more for service rather than for replacement, says Redfield. The company's membership in the Ellen MacArthur Foundation Circular Economy 100 initiative is a major step toward resource optimization. The Foundation works in education, business innovation and analysis to accelerate the transition to a circular economy, which it defines as "one that is restorative by design, and which aims to keep products, components and materials at their highest utility and value, at all times."
Gender Equality and Diversity
For the past five years, Schneider Electric has made gender equality and diversity a priority. This year, the company was recognized for its efforts.

2017 TARGETS


The latest iteration of Schneider Electric's Planet & Society Barometer includes 16 objectives in six indicator categories. For example, for the Circular Economy indicator, it has set a target of "100 percent of product R&D designed the Schneider Electric EcoDesign way." The company is tracking its progress toward the 2017 goals and releases the results on a quarterly basis.
Jean-Pascal Tricoire, Chairman and CEO at Schneider Electric, was awarded one of five United Nations Women's Empowerment Principles (WEP) awards for his demonstrated commitment to policies that advance and empower women in the workplace, marketplace and community. These include a mentoring program, in which women with leadership potential are paired with top executives, a Women in Leadership training program and gender workshops, which educate employees on gender equality issues and result in tangible "action plans."
As of this March, more than 400 women have been mentored and coached. Twelve Schneider Electric executives representing 120,000 employees have signed the WEP and created active gender plans to make Schneider Electric a desirable work environment for women.
Access to Energy
Schneider Electric launched an initiative called Business, Innovation, and People at the Base of the Pyramid (BipBop) to bring safe, clean electricity to people worldwide. Last year, the company decided to scale up its goals and has recast BipBop as the Access to Energy Program.
The long-term goal is to "close energy gaps to ensure better lives for everyone throughout most energy-poor areas of the world." These gaps affect 1.3 billion people globally, approximately 85 percent of whom live in rural areas. Schneider Electric supports the bigger picture and works on solutions adapted to each situation. These include lighting systems, charging equipment, decentralized small power plants and water pumping systems.
Schneider Electric also lends support to other companies and organizations working toward similar goals. As but one small example, after electrifying the Nigerian village of Asore in 2011, Schneider Electric partnered with the Nigerian government in its Light Up Nigeria initiative and has helped bring solar-powered electricity to 1,000 households in Durumi, along with a 4,800-watt energy hub. Nigerian students have also traveled to France for energy management training.
The company involves local populations in projects to guarantee their long-term viability. Training is an integral part of the solutions. A large-scale expansion of the training program was launched in 2013; goals include training 150,000 people by 2017 and supporting 1 million young people by 2025.
---
© 2015, Green Builder Media. All rights reserved. This article is the exclusive property of Green Builder Media. If you would like to reprint this content, you are free to extract a short excerpt (no more than 1/4th of the total article), as long as you 1. credit the author, and 2. include a live link back to the original post on our site. Please contact a member of our editorial staff if you need more information.