Company Profile
Founded: 1891 by Gerard Philips and Frederik Philips
Headquarters: Amsterdam, The Netherlands
Leadership: Frans van Houten, CEO
Products and Services: Healthcare equipment, lighting products, personal care, health and wellness products, domestic appliances
Employees: 108,000
Divisions: HealthTech; Lighting Solutions
Website: www.philips.com
THE ROYAL PHILIPS company has been innovating solutions for nearly 125 years. It produced many of the first radios, televisions and x-ray machines and innovated both the compact disc and the DVD. Today, the company has a presence in over 100 countries. While our readers may be most familiar with Philips' lighting products, the company's portfolio includes everything from medical imaging equipment to electric shavers. In the lighting sector, offerings range from residential light fixtures and solutions to outdoor, automobile and stadium lighting; the company is a recognized leader in LED technology.
Last year, Philips announced it would be transitioning from a holding company structured around multiple divisions to two stand-alone operating companies: HealthTech and Lighting Solutions. In fact, the company has been moving toward more integrated solutions and services, with social and environmental concerns front and center. Philips has been recognized for its environmental and social responsibility, consistently appearing on the Corporate Knights Global 100 list several years running. Last year, Interbrand named Philips in its 5o Best Global Green Brands list.
EcoVision
Philips has set a goal of improving the lives of 3 billion people a year by 2025. To help realize this goal, the company has developed a comprehensive sustainability program called EcoVision. Its latest iteration includes seven key elements: improving people's lives, green product sales, green innovation, green operations, health and safety, employee engagement and supplier sustainability, all of which the company measures and tracks.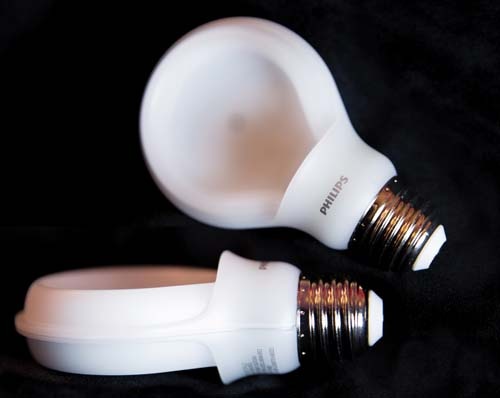 Part of Philips' Green Products portfolio, the Energy Star-certified SlimStyle 60 W LED replacement bulb lasts 25,000 hours and costs about $1 per year to operate. Its slim design also reduces packaging waste and transportation energy.
To further integrate sustainability into its corporate strategy, Philips has developed a value creation model, based on the International Integrated Reporting Council framework, which shows how the company uses the six capitals (human, intellectual, financial, manufacturing, natural and social) to drive value in the short, medium and long term.
"When developing environmental policies, Philips takes into consideration scientific evidence and stakeholder consultation and may decide to go beyond legislative compliance," says Henk de Bruin, global head of sustainability for Philips.
Defining Green
Earlier this year, Philips announced that Green Products represented over half (52 percent) of the company's sales last year. Green Products are those which offer a significant environmental improvement over industry standards in at least one Green Focal Area:
Energy efficiency
Packaging
Hazardous substances
Weight
Recycling and disposal
Lifetime reliability
Green Products earn their status by outperforming reference products (which can be a competitor or predecessor in the particular product family) by at least 10 percent, exceeding product-specific requirements or being awarded with a recognized eco-performance label.
Examples include the company's SENSEO Viva Café Eco espresso maker, which is 10 percent more energy efficient than the standard and incorporates at least 13 percent recycled plastics. Its reduced weight and style also save transportation energy. Other examples include the Philips SlimStyle 60 W replacement LED bulb, Metronomis wireless lighting solution for urban environments and the Ingenia 1.5T Omega MRI machine.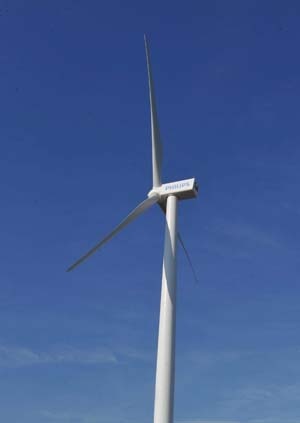 A 415-foot wind turbine at the Philips Lightolier facility in Fall River, Mass. is providing around 70 percent of the plant's energy.
An Evolving Purpose
Three years ago, Philips decided to embed circular economy thinking into its strategic vision and mission.
"As we innovate, we see the transition from a linear to a circular economy as a necessary boundary condition for a more sustainable world," says de Bruin. "We believe that customers will increasingly consider natural resources in their buying decisions and will give preference to companies that show responsible behavior—something we are already seeing."
Here are just a few examples highlighting the company's progress:
A pilot in the lighting division is based on a business model that provides "light as a service." In this strategy, customers pay for the light they use, while Philips remains the owner of all fixtures and installations. For example, the Washington Metropolitan Transit Authority (WMTA) recently contracted with Philips to upgrade lighting in 25 parking garages. Over 13,000 fixtures will be converted to custom-designed LEDs, which are expected to reduce energy usage by 68 percent. Philips will both maintain and monitor the system.
In its healthcare division, Philips is investigating options such as pay-per-scan, where hospitals pay for the usage of the medical imaging equipment instead of the hardware. The company also recently opened a new Healthcare Imaging Systems refurbishment facility in Best, the Netherlands, where pre-owned magnetic resonance imaging (MRI), computed tomography (CT), interventional X-ray and surgical imaging systems are converted to as-new status.
Green Innovation
Philips calls the research and development related to the development of new generations of green products and green technologies "green innovation." In 2010, the company announced a plan to invest a cumulative €2 billion in green innovation over the next five years. Philips achieved this target one year ahead of schedule, after investing €243 million in green innovation in 2014. Projects focused on global challenges related to water, air, waste, energy, food and access to affordable healthcare.
Philips uses its sustainable innovations assessment tool to map, categorize and score its projects along the environmental and social dimensions, in order to identify those that drive sustainable innovation.
"Working in partnerships is crucial in delivering on our vision," says de Bruin. In addition to engagement with customers, suppliers, employees, investors, local communities and governments and non-governmental organizations, Philips participates in meetings and task forces as a member of organizations, including the World Business Council for Sustainable Development (WBCSD), World Economic Forum, Electronic Industry Citizenship Coalition (EICC) and the Ellen MacArthur Foundation.
Reduced Footprint
Philips' target is to double global collection and recycling of waste materials by 2015, as compared to 2009.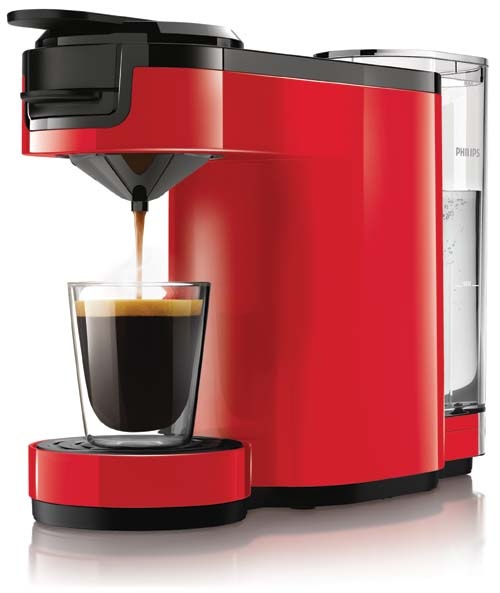 The Philips SENSEO Viva Café Eco espresso maker features both energy efficiency and the incorporation of recycled materials.
"As part of our current EcoVision program, we have set ourselves a recycling target of 80 percent, which we already met in 2014, as our manufacturing sites implemented recycling programs," says de Bruin.
The company reduced its operational carbon footprint by 36 percent in 2014, compared to 2007, drawing closer to the 40 percent reduction target for 2015.
"We continuously focus on the most efficient use of facility space and increase the share of purchased electricity from renewable sources," says de Bruin. In 2012, the company unveiled a 2-megawatt wind turbine at the Lightolier plant in Fall River, Mass., which makes lighting products for the retail and hospitality sectors. The renewable energy project is part of Lightolier's plan to create a net-zero manufacturing facility. Its other recent sustainability initiatives have reduced electricity use by 40 percent, water by 78 percent, natural gas by 36 percent and volatile organic emissions by 98 percent.
Philips has implemented energy reduction plans in its factories for many years; these were "re-activated" in 2014. As part of a drive to reduce energy consumption, the company implemented "energy treasury hunts" at manufacturing and office facilities and identified larger projects with attractive payback times.
A green logistics program includes strategies to reduce business travel (especially by air) and promote video conferencing facilities. Its Green Lease program also delivered tangible results.
"We strongly believe that there is no 'golden nugget,' but rather a number of programs you need to deploy," says de Bruin. "However, as CO2 reductions normally go hand-in-hand with cost reductions, it is not so difficult to get business support for these programs and projects."
Community Involvement
The Philips Foundation is an independent charity organization focusing on disaster relief, local community investment and social entrepreneurship. Philips' country organizations, while aligning with the global strategy, drive regional programs that fit the specific needs of local communities. For example, in 2014, Philips Brazil rolled out the program Light Up Your Game across 10 countries in Latin America. Working together with non-profit organizations such as the KNVB and IDEAAS, they were able to install over 27 solar and semi-solar Community Light Centers, which provide safe and functional space for sports and other community activities after dark.
In North America, the Philips Cares program provides ways for employees to work together to improve people's lives by creating healthy, sustainable communities that contribute to the success and well-being of future generations. This can take many forms, from providing safety and energy-efficient home improvements for the disadvantaged to raising awareness about the importance of cardiac health. In 2014 alone, more than 5,000 employee volunteers participated in community outreach projects through partnerships with organizations such as the American Heart Association, Rebuilding Together and the National 4-H Council.
---
© 2015, Green Builder Media. All rights reserved. This article is the exclusive property of Green Builder Media. If you would like to reprint this content, you are free to extract a short excerpt (no more than 1/4th of the total article), as long as you 1. credit the author, and 2. include a live link back to the original post on our site. Please contact a member of our editorial staff if you need more information.