Company Profile
Founded: 1988 (formed after a leveraged buyout of the carpet manufacturing division of Mohasco Corporation)
Headquarters: Calhoun, GA
Leadership: Jeffrey Lorberbaum, Chairman and CEO
Products and Services: Commercial and residential flooring
Employees: 32,000+
Divisions: Carpet; Ceramic Tile; Laminate and Wood
Website: www.themohawkgroup.com; www.mohawkflooring.com
MOHAWK INDUSTRIES CAN trace its origins to a small woven-carpet company formed by four English brothers in 1878. Today it is the world's largest flooring company. Mohawk Industries' brands include Mohawk Group, American Olean, Daltile, Quick-Step and Pergo; the company's operations extend into South America, Europe, Russia, China, India and Australia.
Mohawk Industries has been recognized with several honors and awards for its commitments to transparency and health and for reducing the environmental impact of its products and operations. The company has transformed in recent years, acquiring nearly $2 billion in new businesses. One of the company's recent acquisitions is Marazzi, a European tile manufacturer; in fact, ceramics now comprise 40 percent of the company's business, up from 25 to 30 percent just a few years ago. To reflect its changing face, the company is revisiting its sustainability goals and programs to ensure they are aligned with the company's expansion.
A Clear Vision
"Over the past three or four years, Mohawk Industries has taken a key position in transparency," says Jenny Cross, vice president of corporate sustainability for Mohawk. The company holds environmental product declarations (EPDs) and health product declarations (HPDs) across all categories of its flooring products. Most recently, it developed EPDs and HPDs for its ceramic products in 2013 and 2014, respectively. Mohawk is the first manufacturer in the ceramic tile category to voluntarily disclose cradle-to-grave impacts from all Daltile, American Olean, Marazzi USA, Ragno USA and Mohawk ceramic tile products with UL Environment-certified brand EPDs.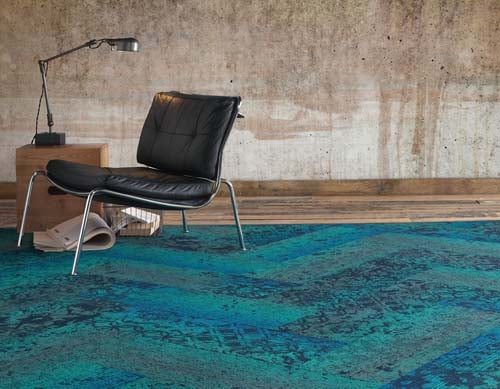 This New Vintage commercial carpeting from the Mohawk Group is one of many products that have earned Declare Red List Free certification.
Mohawk's numerous third-party certifications include GREENGUARD, NSF 140, U.S. EPA Design for the Environment, CRI Green Label and Green Label Plus, FloorScore, Forest Stewardship Council (FSC) and CARB Phase 2. Many of the company's commercial carpet products are also certified with Declare, the transparency program developed by the International Living Future Institute (ILFI) to help participants in its Living Building Challenge program vet materials.
Essentially a "nutrition label" for building products, Declare states where a product comes from, what it's made of and where it goes at the end of its life. The label also states whether or not the product contains anything on the Red List, a group of fourteen "worst-in-class" chemicals.
"We use [these labels] as a way to dig into raw materials," says Cross. As of this writing, the company boasts 639 Declare-labeled products, 471 of which are Red List-free.
To underscore the company's commitment to both sustainability and transparency, Mohawk Group has partnered with the ILFI as an Angel Sponsor, which represents the premium level of company involvement. The company's carpeting is installed in the Bullitt Center, a Living Building Challenge-certified commercial building in Seattle, WA.
Information on Mohawk Group's product ingredients is publicly available through both GreenWizard.com and the ILFI Declare online product catalog at DeclareProducts.com.
Waste as a Resource
Mohawk Industries produces flooring from many post-consumer recycled waste streams, including PET soda bottles, rubber tires and glass. It sources hardwood from sustainably-harvested timber and manufactures laminate flooring from post-industrial wood waste. More than 98 percent of Daltile's manufactured products contain recycled materials.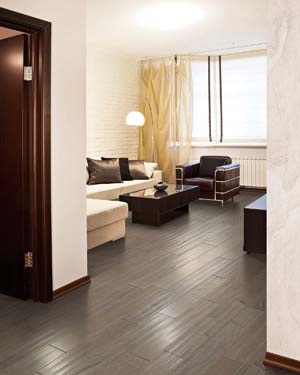 Mohawk has lent its patented Uniclic technology, which allows for quick installation without glues or fasteners, to other manufacturers.
The company has been incorporating recycled plastic bottles into its carpeting since 1999, but in recent years, changing consumer preferences created a challenge. Trends shifted away from sable fibers, which mimic wool and have a "lot of body," to more tailored styles and looped carpets. Unfortunately, the filament yarns used in these are "very unforgiving," says Cross. "Any variation in clarity can cause streaking."
To address the problem, Mohawk invested in R&D and developed its Continuum process in 2013, which enables the use of recycled polymers to create filament yarns without the quality issues. "The technology saved a market that was in steep decline," says Cross. Forty products are made with the Continuum technology, including EverStrand carpeting. The company diverts 3 billion PET bottles from landfills every year. Using recycled plastic also reduces energy use by 70 percent.Flooring
Thinking Ahead
Part of considering the whole life cycle is anticipating the product's end of life. Mohawk's ReCover carpet recycling program is part of an industry-wide initiative, says Cross. Carpets are picked up by waste haulers and reclaimed according to fiber type. Though available for both residential and commercial customers, Cross says the commercial sector is better educated and networked. For both residential and commercial participants, Mohawk arranges for the removal, pickup and delivery of used carpeting to a processor, regardless of the carpet's manufacturer. Once the carpet has been broken down, it is cleaned and separated into one of several polymer streams. As a case in point, the ReCover program has helped Delta Airlines divert more than 50,000 square yards of carpeting every year since it implemented a recycling program.
Ensuring longevity of its products is another way the company ensures a responsible life cycle. Mohwak developed its patented Uniclic system for installing wood and laminate flooring. This locking tongue-and-groove system allows for easy installation without glue or staples; in addition, flooring can be removed and installed elsewhere several times without damaging it. Finally, removing glues from the process contributes to indoor air quality.
Mohawk has also developed carpet products made from partially renewable fibers. In 2005, it launched its line of SmartStrand carpeting, made with Sorona plant-based fibers developed by DuPont. The product's full name is SmartStrand Forever Clean, reflecting its claim of enduring stain resistance.
"It wouldn't work if we tried to give customers a green product just for the sake of being green," says Cross. "The product has to perform."
Mohawk has also reduced the chemicals used in many of its carpet adhesives, including zero-VOC NuSpraylok, which is used for commercial carpet tiles.
Goals and Progress
Mohawk set sustainability goals in 2009, but because of its new acquisitions, decided to revamp those goals in 2013, using 2010 as a baseline. The current target is a 25 percent reduction in energy intensity, GHG emissions intensity, water intensity and waste intensity. Here is a summary of the company's progress in each area: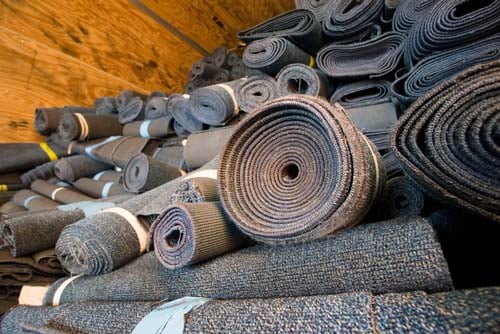 Much of the used carpeting captured through Mohawk's ReCover program ends up as injection-molded plastic parts for the automobile industry.
Water: Six manufacturing plants recover and reuse 100 percent of their process wastewater. As a result, this division is able to recycle 25.2 percent of its total water. The company's operations have reduced overall water use by nearly 9 percent, or over 300 million gallons since 2010, through the introduction of water reclamation technologies and the implementation of other best practices. Given the number of new operating facilities that were integrated during the year due to acquisitions, especially ceramic plants that are relatively water-intensive, the company is pleased with this performance. Even more encouraging is an 18.72 percent decrease in water intensity from the 2010 baseline through 2013.
Waste: From 2012 to 2013, overall waste-to-landfill intensity increased slightly. This resulted from the integration of major ceramic acquisitions during 2013. The recycling of waste byproduct from ceramic manufacturing is one of the company's largest waste challenges. Fired tile is difficult to re-process, but Mohawk installed equipment in its El Paso, Texas manufacturing plant to grind up tile and add it back to the mix, where it becomes new product.
In 2012, Mohawk Industries launched an internal Zero Landfill certification program. The program started with rug and carpet manufacturing facilities but has since expanded across all of its operations. As of this writing, 28 facilities can claim zero waste-to-landfill status.
"Many of the facilities are in very rural locations, where finding markets is more challenging," says Cross. "Waste is about paying attention. It's a mini-business."
Energy and Greenhouse Gas (GHG) Emissions: During 2013, Mohawk Industries reduced energy intensity by 2.9 percent from 2012 levels. In turn, progress in 2013 contributed to a 7.3 percent cumulative reduction from the 2010 baseline. Similarly, GHG emissions fell 2.15 percent from 2012 to 2013 and 7.52 percent from the 2010 baseline, despite integrating new acquisitions during 2013.
Since acquiring European tile manufacturer Marazzi, Mohawk can now boast three ceramic plants that produce their own electricity via co-generation from natural gas-powered turbines. In 2013, these plants produced 59,880,574 kilowatt hours of electricity, enough to power 5,525 average U.S. homes for a year.
The company's commercial carpet tile manufacturing plant in Glasgow, VA reduced absolute GHG emissions by 30 percent from 2012 to 2013. This dramatic decline reflects the first full year of boiler operation on natural gas instead of coal.
---
© 2015, Green Builder Media. All rights reserved. This article is the exclusive property of Green Builder Media. If you would like to reprint this content, you are free to extract a short excerpt (no more than 1/4th of the total article), as long as you 1. credit the author, and 2. include a live link back to the original post on our site. Please contact a member of our editorial staff if you need more information.