Company Profile
Founded:
1905 (formed by a merger of Ingersoll-Sergeant Drill Company and Rand Drill Company, both of which formed in 1871)
Headquarters:
Davidson, N.C. (NA Headquarters and Corporate Center)
Leadership:
Michael W. Lamach, Chairman and CEO
Products and Services:
HVAC Equipment and services; complete compressed air systems, tools, pumps, material handling systems and comprehensive services; transport temperature control systems for a variety of mobile applications, including trailers, truck bodies, buses, shipboard containers and rail cars; and small-wheel, zero-emissions electric vehicles.
Employees:
40,000+
Divisions/Brands:
Ingersoll Rand, Trane, Thermo King and Club Car
Website:
www.company.ingersollrand.com
WITH PRODUCTS AND SERVICES ranging from HVAC equipment and power tools to transport refrigeration and industrial equipment, Ingersoll Rand is uniquely positioned to greatly impact global energy use, particularly in buildings. And the company is leveraging that position to make a difference.
In 2009, the company decided to move away from simply being a holding company to maximizing every function and brand, says Scott Tew, executive director of Ingersoll Rand's Center for Energy Efficiency & Sustainability, or CEES. This began with CEO Michael Lamach, who led a board-level discussion on sustainability. How could the company use all of the tools—lean manufacturing, greater efficiency, reduced waste—to satisfy customers?
"We came away with a mandate: to integrate and imbed sustainability into every brand and every function," says Tew. At the center of this is the company's climate commitment, which is literally the first statement in Ingersoll Rand's 2014 annual report.
A Bold Commitment
In September 2014, Ingersoll Rand made a public commitment to significantly increase energy efficiency and reduce environmental impacts from its operations and product portfolio by 2030, with key milestones specified for 2020. Ingersoll Rand predicts that this ambitious roadmap "will result in the avoidance of approximately 21 million metric tons of CO2 globally before 2020, which is equivalent to the energy used by nearly 2 million U.S. homes for one year."
The climate commitment includes three bold propositions:
Reduce the climate impact related to the refrigerant used in products by 50 percent before 2020 and incorporate lower global warming potential (GWP) alternatives across Ingersoll Rand's portfolio by 2030.
Reduce the greenhouse gas (GHG) footprint of the company's operations by 35 percent before 2020.
Invest $500 million in product-related research and development over the next five years to fund the long-term reduction of GHG emissions.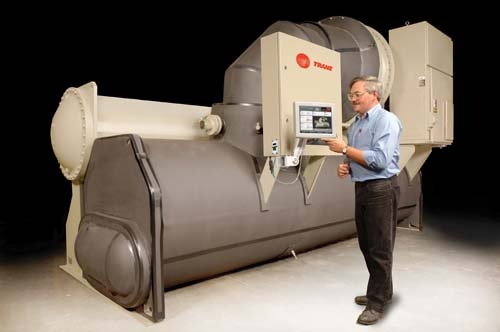 The Trane EarthWise CenTraVac centrifugal commercial chiller is the first in the industry to have an Environmental Product Declaration, and it can earn LEED v4 points under the Building Product Disclosure & Optimization category.
Step-Wise Progress
Ingersoll Rand is making steady progress toward its 2020 GHG footprint goals, but the company is also addressing other issues, such as solid waste and water usage. According to the company's 2014 sustainability report, absolute water usage has dropped by 12 percent and non-hazardous waste by 27 percent, compared to 2010 baselines. Absolute greenhouse gas emissions have been reduced by 28 percent in the five years between 2010 and 2014.
A tiered energy audit program has proven to be an invaluable tool for tackling operational energy. A full energy audit for a facility in Tyler, Texas provided a "full menu" of options to choose from. The energy savings have paid for the changes, which included new lighting, upgraded compressors and HVAC replacement.
The EcoWise Portfolio
To support its ambitious vision, Ingersoll Rand announced the creation of its EcoWise portfolio of products in early 2015. These climate and industrial refrigerant-bearing products are designed to lower environmental impact with next-generation, low global warming potential (GWP) refrigerants and high efficiency operation. They reduce environmental impact by lowering greenhouse gas (GHG) emissions and maintain or improve safety and energy efficiency through innovative design.
Some of the first products added to the portfolio were the Trane Sintesis air-cooled chiller and the Trane E Series CenTraVac large-capacity chiller. Both come with the option of a low global warming potential refrigerant. Thermo King's truck and trailer refrigeration products and global marine refrigeration units are also part of the EcoWise portfolio. These efficient units use a next-generation DuPont refrigerant with 50 percent less GWP than current conventional options.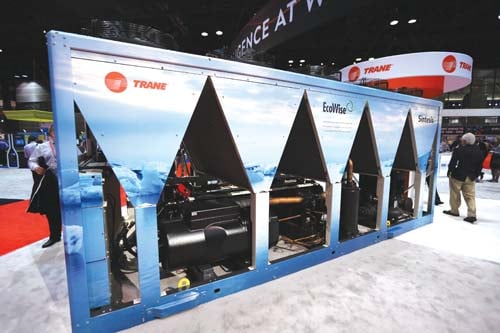 The Sintesis air-cooled chiller is part of the Ingersoll Rand EcoWise portfolio of products that can use next-generation, low global warming potential (GWP) refrigerants and are energy efficient.
The company has developed a standard way of designing new products, using several "modules" as guidelines. They created a Sustainability Module to help guide new product development, which includes criteria for choosing raw materials and evaluating its end of life.
"Our products last 20 to 25 years," says Tew. "We have to think beyond the careers of current employees." The company performed a Life Cycle Assessment (LCA) and then obtained an Environmental Product Declaration (EPD) from the Institute of Construction and the Environment for its Trane EcoWise CenTraVac chiller—the first in the industry. Though it required an investment of time and resources, Tew says they learned a lot through the process, and it sparked questions about how and why they chose certain raw materials and whether there exist better alternatives.
R&D is taking place in many locations. "We acknowledge that we don't have all the answers and are actively seeking research partners, such as universities and NGOs," says Tew. The company plans to launch a new website later this year, where it will announce and track new innovations.
Employee Engagement
To succeed in its vision, Ingersoll Rand also must engage its employees. The company is using three strategies to do so: specialized training, its Green Teams and transparent communication.
Ingersoll Rand provides training to key employees, from design engineers to those who choose raw materials. "Unique classroom and online training takes employees through a host of modules, which will ultimately help them make better decisions," says Tew. The training program can lead to a Design for Sustainability certificate from UL Environment.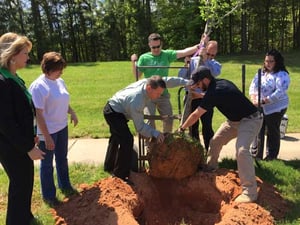 Ingersoll Rand launched its Global Green Teams Initiative in 2011, starting with only 25 teams in the United States. In 2014, the network grew to 112 teams worldwide.
Many companies host so-called green teams—groups of employees that work to reduce the environmental impact of their facility—but Ingersoll Rand takes the concept further, tracking the teams' impacts in a number of areas: greenhouse gas emissions, waste and energy saved (see chart above). The numbers are "staggering," says Tew.
As just one example of their impact, the Green Team representing the Trane facility in Waco, Texas recently earned Gold status for its many successes. Here is a sampling of the team's projects:
Converting the forklift fleet from propane to electric.
Replacing air compressors and light fixtures with energy-efficient models.
Creating 11 recycling streams.
Replacing landscaping with drought-tolerant plantings.
Initiating community activities such as food drives, blood drives and trash clean-ups.
Future plans include installing a cool roof and two wind turbines.
Sharing Stories
Ingersoll Rand established the Center for Energy Efficiency & Sustainability (CEES) in 2010. It essentially functions as the company's sustainability department, says Tew.
"We've done a lot to share our story, both internally and externally." This includes doing formal benchmarking with other progressive companies.
The website provides a place to share "sustainability success stories" in the areas of product stewardship and innovation, operational excellence and social and community contributions.
As just one example, the Thermo King plant in Arecibo, P.R. has been recognized for Operational Excellence for streamlining the packing and shipping process. They replaced disposable cardboard packaging and wooden pallets with returnable plastic totes, bins and pallets; more efficient loading reduced the number of shipping containers needed. They also eliminated overland truck routes and the need to store supplies in a warehouse. This facility has reduced solid waste, saved nearly 70,000 gallons of diesel fuel and cut $2 million in costs, of $89 per unit.
---
© 2015, Green Builder Media. All rights reserved. This article is the exclusive property of Green Builder Media. If you would like to reprint this content, you are free to extract a short excerpt (no more than 1/4th of the total article), as long as you 1. credit the author, and 2. include a live link back to the original post on our site. Please contact a member of our editorial staff if you need more information.