Company Profile
Founded: 1903 by Henry Ford
Headquarters: Dearborn, MI Leadership: William Clay Ford, Jr., Executive Chairman; Mark Fields, President and CEO
Products and Services: Automobiles and automotive parts; luxury vehicles; commercial vehicles; vehicle leasing; vehicle service
Employees: 187,000 worldwide
Divisions: Ford; Lincoln
Website: www.ford.com
THE FORD MOTOR COMPANY has come a long way since the days of Henry Ford and his innovative assembly line. Today, Ford is a multi-national company with a full family of vehicles. The company's goals are to create great products, a strong business and a better world, accomplished through its sustainability strategy. To that end, Ford has vowed to do its part to stabilize the amount of CO2 in the atmosphere by addressing the emissions impacts of both its products and its operations.
In 2013, the fuel economy of Ford's U.S. car and truck fleets improved by 2 and 3 percent, respectively. At the heart of the company's fuel efficiency strategy is its EcoBoost engine, which features gasoline turbo-charged direct injection technology. The engine boosts fuel efficiencies by 10 to 20 percent while offering superior performance. The 1.0L EcoBoost engine, which is used in the Ford Fiesta and 2015 Ford Focus, was named International Engine of the Year in 2014—the third year in a row it has captured the award. A
Suite of EVs
Ford is looking beyond the internal combustion engine. The company offers six electrified vehicle options in the U.S. and Canada, ranging from hybrids to plug-in hybrids to true battery-electric vehicles. As of November 2014, Ford was the world's second largest manufacturer of hybrids, with 400,000 hybrid electric vehicles produced since their introduction in 2004. In 2013, Ford sold over 87,000 EVs, including battery electric vehicles (BEVs), hybrid and plug-in hybrids—an all-time record for the company. EV sales accounted for 3.5 percent of company sales, up from 1.6 percent share in 2012.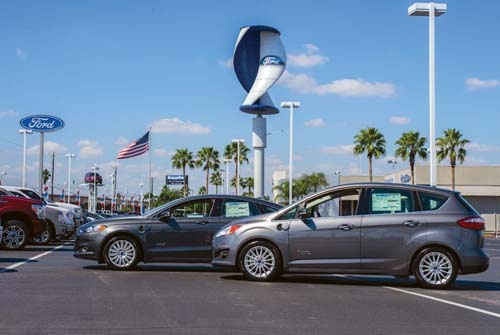 Windy Systems, which integrate wind and solar energy, have been installed at several Ford dealerships. They are expected to deliver 20,000 kWh each year, enough to power two average-sized homes or charge a plug-in hybrid 2,600 times.
"We're seeing an interesting trend with plug-in hybrids," says John Cangany, sustainability communications manager for Ford. "As technology improves, we're able to do more with batteries." The first generation of these vehicles featured large engines and relatively small battery storage. As they've evolved, the batteries have grown larger and the engines smaller. Cangany believes that as people learn the technology, they adjust their driving habits to optimize when and how they charge their vehicles for lowest price and guaranteed best range.
"This fits with our business strategy, which we call 'the Power of Choice,'" he says. Ford has also teamed up with SunPower and the Sierra Club on a concept called Drive Green for Life, in which they connect EV customers with solar PV arrays for "truly emissions-free driving." Drive Green for Life offers Ford customers who own plug-in EVs a $750 rebate on a residential SunPower PV system. The Sierra Club receives a $500 donation from SunPower for each rooftop system installed through the program.
The Revamped F-SERIES
Ford's F-Series truck continues to dominate the industry. It has been the nation's top-selling truck for 38 years and the top-selling vehicle for 33. In 2015, the F-Series was redesigned to maximize efficiency. Military-grade aluminum alloys have left the vehicle nearly 700 pounds lighter, increasing its efficiency without compromising performance.
It comes with four engine choices including an all-new, even more efficient 2.7L EcoBoost engine, which offers the same power as some mid-range V8s and includes extremely high output, lightweight design and standard auto start-stop. Conceived with truck customers in mind, this technology shuts off the engine to save fuel when the vehicle is stopped, except when towing or in four-wheel drive. The engine restarts in milliseconds when the brake is released.
Customers can also choose a 3.5L V6 engine, downsized from a 3.7L version. The truck's lighter weight allows for a smaller engine while maintaining the same power to weight ratio.
The vehicle is greener inside, too. Standard seats in the F-150 are made from a 100 percent recycled fiber called REPREVE, comprised primarily of recycled plastic bottles and other post-consumer and post-industrial plastics.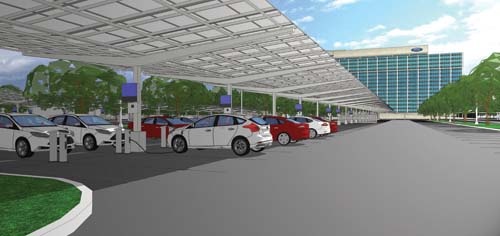 The new solar canopy at Ford's headquarters in Dearborn, MI can generate 1.038 MW, enough to power about 160 homes plus charging stations.
Embracing Renewable Energy
In its 2013-2014 Sustainability Report, Ford states that it will reduce its facility CO2 emissions by 30 percent from 2010 to 2025 on a per-vehicle basis, and it will cut the average energy consumed per vehicle by 25 percent from 2011 to 2016 globally. The company is turning to renewable energy as part of its strategy.
In 2014, Ford teamed up with power provider DTE Energy to build Michigan's largest solar array at the company's world headquarters in Dearborn. The array is spread over 360 covered parking spaces and also provides power for 28 charging stations for plug-in EVs.
Ford and DTE Energy teamed up previously, in 2010, on a 500-kW PV system at Ford's Michigan Assembly Plant in Wayne. The plant also makes use of used EV batteries to store energy.
The company is also collaborating with Wind Energy Corporation in an exclusive pilot program to install wind sail and solar PV systems at Ford dealerships. Each Windy System features wind sail technology and includes an integrated 7 kW solar array. Ford dealers will use the energy to power their buildings and EV charging stations and to light their lots.
A Focus on Water
Ford first made commitments around water in 2000, declaring a goal to reduce the amount of water used per vehicle by 30 percent by 2015, using 2009 as a baseline. Ford reached its goal two years ahead of schedule, in 2013. Since 2000, the company has reduced its total global water use by 61 percent, or more than 10 billion gallons.
Ford is developing new, ambitious goals around water this year. The strategies range from updated cooling towers to using reclaimed water for landscaping.
"We do business in a lot of arid regions, so the practices are quickly replicated," says Cangany. One of these is a "dry scrubber" system used in the paint process. A conventional wet scrubber system uses water filtration to remove overspray from the air in the paint booth. The new system pumps the air through a recyclable limestone filter instead. In addition to using 75 percent less water, the dry scrubber system reduces energy use and CO2 emissions by 44 percent and cuts particulate emissions by 99 percent.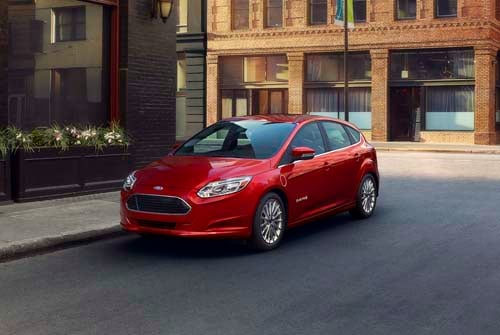 The Ford Focus Electric is an electric-battery vehicle featuring a 23 kWh lithium-ion battery. It gets 110 mpg in the city and 99 on the highway.
The company's stamping and assembly plant in Cuautitlán, Mexico demonstrates many of the water-saving technologies that the company has applied across the board. Water use per vehicle produced at the Cuautitlán facility plummeted by almost 58 percent between 2000 and 2013. Some of the strategies included installing dedicated piping for potable water, using reclaimed water to irrigate landscaping and implementing 3-wet paint technology, which allows three layers of paint (primer, base coat and clear coat) to be applied while each layer is still wet. (This method also slashes energy per vehicle by 50 percent and reduces the emission of VOCs.)
MyEnergi Lifestyle
In 2013, Ford launched its MyEnergi Lifestyle initiative, which is a comprehensive energy management strategy that integrates "smart" home appliances, renewable energy and electric vehicle charging. The solution optimizes energy use by shifting usage to periods of low demand. The point of the program is to demonstrate how the typical American family can reduce its energy bills and carbon footprint.
"The two biggest energy draws are heating and cooling and electric vehicle charging," says Cangany. "If you can manage them together, you can drastically reduce energy use." In a brownout scenario, the EV battery could also potentially serve as a back-up energy source.
MyEnergi Lifestyle is a collaborative effort involving companies and institutions, including SunPower, Whirlpool and the Georgia Institute of Technology. So far, the concept has been retrofit into two homes, one in Colorado and one in California, which feature C-MAX Energi Plug-in Hybrids, smart appliances from Whirlpool and solar PV arrays from SunPower. The homes have shown a 60 to 70 percent drop in energy use.
Mobility Strategies
Ford recognizes the issues faced with increasing urbanization and is undertaking experiments to explore mobility strategies that can reduce congestion and pollution and increase safety and efficiency.
"We're rethinking how to get from A to B," says Cangany. The company has 28 concurrent projects taking place. One, called Parking Spotter, uses existing radar and sonar sensors that are part of Ford's Driver Assist technology to help drivers find vacant parking spaces. According to Cangany, Americans waste 70 million hours searching for parking. This smart technology, which is currently being pilot-tested in Atlanta, GA, can reduce emissions, along with frustration.
---
© 2015, Green Builder Media. All rights reserved. This article is the exclusive property of Green Builder Media. If you would like to reprint this content, you are free to extract a short excerpt (no more than 1/4th of the total article), as long as you 1. credit the author, and 2. include a live link back to the original post on our site. Please contact a member of our editorial staff if you need more information.