Green Home of the Year Awards
Frequently Asked Questions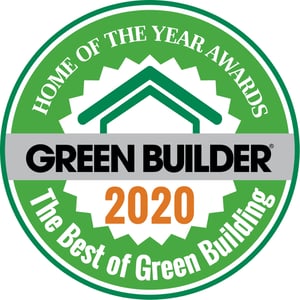 How much would it cost to enter the General category with more than one project? $119 for the first entry, $89 for each additional entry.
How much would it be cost enter the General category and the Mainstream Green category? $119 for the General category entry plus $89 for the Mainstream Green category entry.
Can I enter the same project into both the General category and the Mainstream Green category? Yes.
What are the qualifications for the Alternative Building Technology category about? We are looking for interesting projects that use alternative building techniques. We list SIPs and ICFs but if you have used another alternative building technology and want to run it by us just email mcollignon@greenbuildercoalition.org.
Why don't you have specific categories? We want to see the best projects that are out there. By eliminating up-front categories we feel we are able to truly recognize the most exceptional projects.
Are certifications like LEED, Energy Star, Environments for Living, etc. required? No. In the General category certifications will neither help nor hinder your entry. The only required document is in the Mainstream Green category (HERS Index) to show proof of a HERS rating of 50 or better.
Do you allow extensions? To be fair to all entrants we do not allow any extensions.
Can I enter a project I have entered before? Past projects, products, or other winners of Green Builder Media awards are ineligible.
Are photos important? Absolutely. Without photos we can't judge your project fully and we would need them for the magazine if you were chosen as a winner. Six to eight high resolution (8x10 at 300 dpi or larger; .JPEG or .TIFF format) photos will be required if you are chosen as a winner. Six to eight photos are needed for your project to be judged.
Still haven't answered your question? Email Mike Collignon at mcollignon@greenbuildercoalition.org.