About
Mythic Paint is the only premium, non-toxic, zero voc paint available. The paint comes in a designer color palette of over 2,000 hues but can also be matched to any competitors color. Mythic Paint uses a colorant system that does not add any VOCs to the paint when it is tinted, regardless of the depth of the color. It is available in three lines – the Mythic Pro for professional painters (to prevent them breathing in toxic fumes all day!) the Mythic Classic and the Mythic Black Label – one of the highest quality paints on the market. Mythic Black Label is the only non-toxic paint that is a primer and top coat in one. It has a patented technology which prevents any fading and is extremely durable under most conditions. Mythic Paint is available in all finishes for interior and exterior painting needs and is extremely low odor to protect your family, pets and the planet.
Sustainability and the Environment
Mythic Paint only makes zero-voc, non-toxic coverings that are created in a zero-emissions facility. The paints are contained in the highest level of recylable plastic containers. Mythic Paint is the only paint that is not required to carry a warning label!

Featured Products in VISION House Los Angeles
Mythic Pro: A high quality, premium zero-voc, non-toxic paint that is available in 5-gallon containers for the professional industry and priced to enable professionals to use a safe paint while being fiscally responsible. Available in any color and in four finishes – drywall primer, flat, eggshell and semi-gloss.
Mythic Classic is the original zero-voc, non-toxic premium paint that comes in any color and ten finishes for all interior and exterior needs. With superior durability, Mythic Classic is ideal for all your painting needs.
Mythic Black Label: Ultra-premium product that delivers paint and primer without compromise. The new product is available in matte, satin and semi-gloss finishes and contains the New Color Capture Technology™ to provide cleaner and richer colors with exceptional color retention. With superior moisture resistance and adhesion which combined with mildew resistance makes it the perfect choice for kitchens and bathrooms that need to combat greater moisture than other rooms.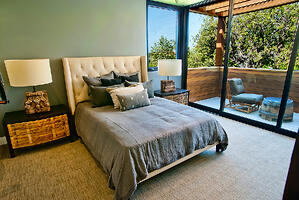 Photos: lathamarchitectural.com