About
As the innovators of the landscape industry's first landscape decorative rock derived from 100% recycled concrete, GreenRock™ is an alternative solution for landscape architects, site contractors and DIY homeowners.
An entirely new concept to the landscaping and eco-friendly market, GreenRock™ is transforming outdoor living spaces from ordinary into extraordinary, while saving our earth's valuable natural resources. Its unique color and texture is a direct result of a special blend of concrete roofing tiles, concrete paving stones and concrete blocks that have been recycled from damaged, unused materials.
Sustainability and the Environment
GreenRock's reputation for integrity, quality, superior service and innovative 'green' products is our responsibility and with these traits come the responsibility to the public, our clients and the generations to follow; embodying the belief in creating a healthy environment. Our mission is to remain committed to enhancing the lives of both the public and private spaces, as we embrace our roles as innovative and responsive partners to the landscape and sustainable industries.

Featured Products in VISION House Los Angeles
Fine: A reliable source for garden spaces, lining walkways and pool landscaping Fine rock is offered in 3/8 inch size providing a perfect beauty of grandeur.
Coarse: Comprised of mostly 3/4 inch size rock, Coarse material is excellent for large outdoor spaces.
Paver Base: A great alternative to decomposed granite for pathways, our Paver Base is easy to install, maintain and compacted.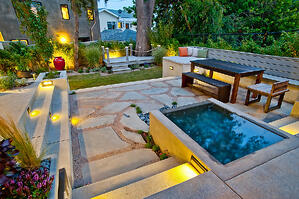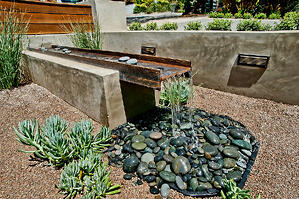 Photos: lathamarchitectural.com