About
Ingersoll Rand (NYSE:IR) is a world leader in creating and sustaining safe, comfortable and efficient environments in commercial, residential and industrial markets. Our people and our family of brands—including Club Car®, Ingersoll Rand®, Schlage®, Thermo King® and Trane® —work together to enhance the quality and comfort of air in homes and buildings, transport and protect food and perishables, secure homes and commercial properties, and increase industrial productivity and efficiency. Schlage is the leader in security devices, trusted for 90 years, spanning both the commercial and residential markets. Ingersoll Rand is a $14 billion global business committed to sustainable business practices within our company and for our customers. For more information, visit www.ingersollrand.com.
Schlage® is the leader in home security and hardware products, offering innovative new solutions like wireless and mobile security to help build the homes of the future. Visit www.schlage.com for more information.
Sustainability and the Environment
We believe that we have great opportunitites for growth through customer focused innovations that improve the quality of life and our environment, including many that advance sustainable business practices. We provide products and services that help customers reduce their energy use and greenhouse gas emissions, and therefore help minimize the effects of climate change. At the same time, we are working to reduce the energy footprint of our own operations. For more information click here.
VISION House in INNOVENTIONS Products
The Schlage Touchscreen Deadbolt combines all of Schlage's best security features into one lock – redefining what it means to be secure. With our innovative touchscreen feature, you have the convenience of going keyless and no longer having keys to lose, hide, carry or forget. This fingerprint resistant deadbolt is Grade 1 rated, features Built-in Alarm technology and connects with Nexia™ Home Intelligence.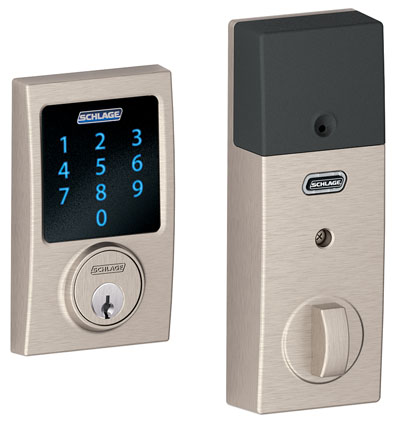 Schlage Home Indoor Camera: A well-placed wireless camera gives you the answers you need. Great for monitoring housekeepers, babysitters and others you allow into your home. Nexia Home Intelligence gives you the assurance you need that everything's safe and sound—or the information you need to take care of home situations right away.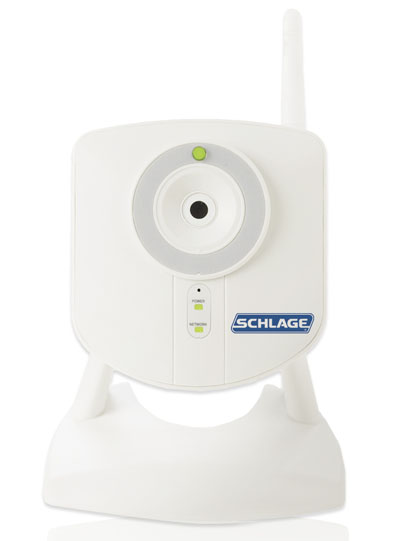 Schlage Home Dimmer Module: The Schlage Home Dimmer Module puts smart home lighting control in your hands, from anywhere. All you need is Nexia Home Intelligence and most any web-connected computer, tablet or smart phone. It lets you do so much more than turn on a light.
Schlage Home Appliance Module: It's easy to remotely operate appliances, lamps and other electronics with Nexia Home Intelligence and this simple plug-in Schlage module. A Nexia outlet on one end and a regular outlet on the other end means you don't sacrifice any plug-in space for your other electrical devices. Nexia makes it easy to manage lights and many other plug-in devices from most web-connected computers, tablets or smart phones.
Schlage Handleset: Your front door is the place where security and style meet. That's why the front entry door handleset you choose matters so much. To ensure your home's security, all Schlage front entry door handlesets are precision-engineered, easy to install and built with a rugged all-metal chassis. And to compliment your home's exterior door hardware, Schlage offers a wide variety of different designs and finishes—from simple and classic to sleek and contemporary.
Schlage Electronic Lock: Lose your keys for the last time with a Schlage Electronic Lock. Through use of unique 4-digit codes, this innovative lock feature allows you to lock and leave without a key or enter with your code. Ideal for front, side and back doors, garage entry doors or interior offices and wine cellars, this lock runs on a batter and installs in minutes.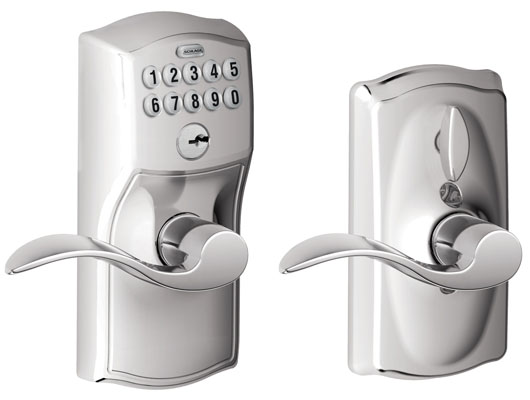 Schlage Decorative Collections: Your door hardware becomes a work of art with Schlage's new collections. Six inspired designs with numerous finishes and a wide variety of high-quality Schlage lever and knob options create abundant combinations setting your home apart from your neighbor. This is the Century collection featuring the Latitude lever.