Pella Corporation
About
It sounds like a futuristic movie scene: a woman at work uses her smart phone to remotely unlock her front door for a repairman. As the sunny winter day turns into evening, her time-activated home automation system lowers the blinds in the family room to help prevent heat loss.
The new Pella SmartSync™ technology is an integrated system that allows blinds or shades – like Pella Designer Series® snap-in window fashions – to be operated remotely. These window fashions can be opened and closed using a remote control or home automation systems through Web-enabled devices like computers and most smart phones.
The new technology is the latest innovation from Pella Corporation — a leader in designing, testing, manufacturing and installing sustainable windows and doors for new construction, remodeling and replacement projects for residential and commercial needs.
Pella is known for its 87-year history of making innovative products, providing quality service and delivering on customer satisfaction. Headquartered in Pella, Iowa, with its products manufactured across the USA, the privately-held company is committed to incorporating new technologies, increasing productivity and practicing environmental stewardship to create satisfied customers.
Pella manufactures energy-efficient windows, patio doors and entry door systems sold through a Direct Sales Network operating Pella Window & Door Showrooms across the United States and Canada and select building materials retailers. For more information visit pella.com or call 888-847-3552.
Sustainability and the Environment
In business since 1925 when its first recycling program began, Pella's goal remains to use resources responsibly, like the wood, vinyl, fiberglass, glass, various metals and even sawdust generated from manufacturing Pella Windows and Doors.
Pella has earned the U.S. ENERGY STAR® Partner of the Year and ENERGY STAR Sustained Excellence Award numerous times, for its leadership in manufacturing energy-efficient products and educating consumers about them.
VISION House in INNOVENTIONS Products
Pella introduces SmartSync™ automated shades and blinds for Designer Series® windows – the latest innovation allowing you to control your interior environment and optimize energy usage in your home, anytime, anywhere. Managing the sun's light and heat with SmartSync technology delivers over two times more efficiency than windows without shades or blinds.
Pella® Designer Series® windows are rated #1 for energy efficiency among top national wood brands* and offer more style choices than any other brand, including between-the-glass window fashions and grilles, decorative panels, prefinished interiors and exteriors. Our exclusive snap-in technology makes it easy to change window fashions yourself, anytime.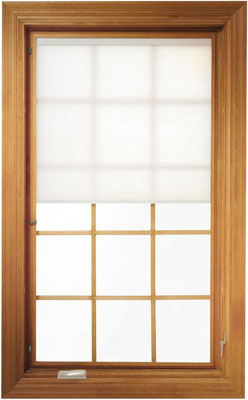 Pella® Designer Series® hinged patio doors provide added security with a multipoint lock. This unique locking system, with one easy-to-reach handle, secures the door at the top, middle and bottom. You'll also experience easier entrances and exits – between-the-glass window fashions won't get in the way as you come and go.