An NPR report says micro-sized green living tends is on the rise, but the motivating factor depends on local housing conditions.
CITIES ARE GENERALLY THE "GREENEST" PLACES TO LIVE, because they make the most efficient use of resources, and concentrate environmental impacts. If we all lived in cities, says Brian Levy, vice president of Pollin Energy and Retrofits (PEAR), a retrofits financing partnership (he lives in a micro house--see below), we would have have large wildlife roaming around in our suburbs.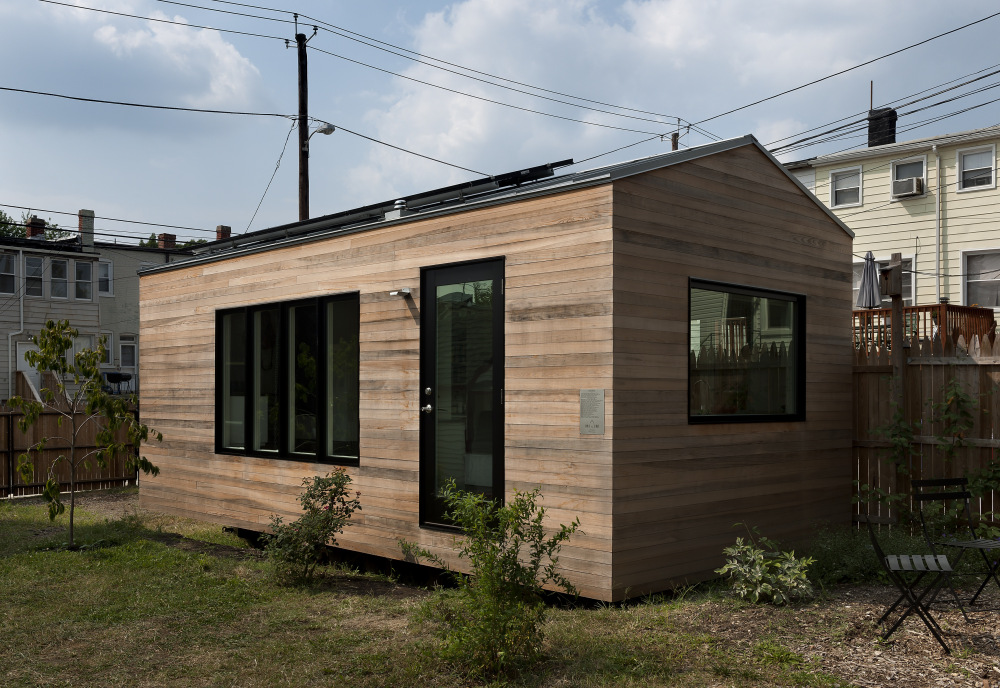 Challenging the Norm. Brian Levy's Minim House in D.C.is attracting a lot of attention.
This was just one of the topics discussed on the National Public Radio (NPR) program titled Living Small: Micro Housing Grows Up recently during the Kojo Nnamdi Show (You can click on this link and listen to the entire program).
Guest host Rebecca Shier interviewed the Living Smaller legend architect Sarah Susanka; Washington, DC-area builder Monty Hoffman, PN Hoffman; and co-founder and developer of Boneyard Studios and owner of the Minim House, Brian Levy.
Hoffman is building The Wharf in DC's Southwest Waterfront neighborhood. One building will feature 150 studio apartments with less than 400 square feet. Hoffman says the apartments won't feel as small as they are because they will have 9-foot-plus ceilings, a wall of built-in cabinetry, a Murphy bed that that folds down over the couch (so it's not a sleep sofa but rather a wall bed and sofa) and a wall of windows. Units will even include washers and dryers in the units. The apartments will be available for rent in 2017. Hoffman says the lifestyle involves using the city itself as expanded living space and adds time because residents avoid a one-hour-each-way commute. The Wharf will also include workforce housing, targeted affordable housing (though that does not mean the micro apartments, which are expected to rent for around $2,000 a month, affordable for someone making $65,000 a year, Hoffman says). The project will even include house boats. Here is a pdf describing the project.
Hoffman says that Millennials are more interested in experience rather than space. Sarah Susanka seconded Hoffman saying that the Millennials grew up on acreage in the suburbs and are adopting the principles that she has been writing about since the late 90s. Susanka says that our houses will become portals in the future. We will meet virtually on large wall-sized screens and link to all of our electronic devices.
Levy's Minim House really is micro—a lot of living in a mere 210 square feet—smaller, only a quarter of the size in fact, of the average entry in the Solar Decathlons.
Levy and Foundry Architects designed Minim; David Bamford (Element Design+Build), Tony Gilchriest and Brian Levy built it of SIPs. The 11- by 22-foot home includes a roll-out full-size bed, a five-foot wide closet, a 10-foot galley kitchen and a fully functional micro-bathroom. There is a table that depending on living activity morphs from dining to desk to coffee table.
And the home features 960-watt solar array and a 290 gallon rainwater capture/treatment system with a three-part filtration system to filter the collected water.
Metro Connection, another DC local NPR program has a Youtube video of the Boneyard Studios, which host four micro houses. Metro Connection describes Boneyard Studios as a local collective that has "created a sort of tiny home showroom on a triangular, back-alley lot just off of North Capitol, on Evarts Street NE. Walled off from the alley by a picket fence on two sides and a wire garden fence on the other, the plot currently holds four trailer-sized homes, and plenty of room for a shared front yard and a good sized garden."
The video concentrates on Jay Austin's home called the Matchbox. None of the collective members live in their homes full time because DC zoning laws don't permit it. They do hold open houses once a month; 400 people came to the Boneyard's August 17th open house.
Austin told Metro Connection, "You can build a tiny house for as little as $10,000, if you're not above salvaging some material from junkyards, but Austin spent between $30,000 and $40,000 on the Matchbox."
Levy also talked about "cargotecture," home made from shipping containers.
Sarah Susanka has been writing about small since 1998. The smallest place she ever lived in was 96 square feet. She told Scheir that she specializes in building houses that are "a third smaller than you think you need for the same price," she told Sheir. She writes about "how to make less square footage do more." Susanka praises the efforts of the tiny house folks who are able to make one space serve several uses.
Susanka talked about the "cult of square footage." She says every architect and builder struggles with size— living in a home is about quality not quantity. She hopes her books have added to the discussion.
Here is a link to Sarah Susanka's TEDx talk in San Diego where she talks about real time:
---
© 2016, Green Builder Media. All rights reserved. This article is the exclusive property of Green Builder Media. If you would like to reprint this content, you are free to extract a short excerpt (no more than 1/4th of the total article), as long as you 1. credit the author, and 2. include a live link back to the original post on our site. Please contact a member of our editorial staff if you need more information.