About

At American Standard, it all begins with our unmatched legacy of quality and innovation that has lasted for more than 130 years. It is this tradition of quality and innovation that puts us in three out of five homes in America, as well as, countless hotels, airports, and stadiums. We provide the style and performance that fit perfectly into life, wherever that may be.
Produc
ts in ReVISION House Vegas
American Standard H2Option® toilet
Flush Green. Stay Clean. Every time. Now there is truly a better way to save water without sacrificing performance. The American Standard H2Option toilets introduce patent pending siphonic action technology that uses less water, eliminates more bulk and maintains a cleaner bowl. The dual flush activator saves on average 25% more water than standard bowls. The heavy flush utilizes 1.6gpf and the light flush utilizes 1.0gpf, saving the average family of 4 more than 17,000 gallons of water than an old 3.5gpf model or 3,650gallon savings over a standard 1.6gpf model. The H2Option is WaterSense listed.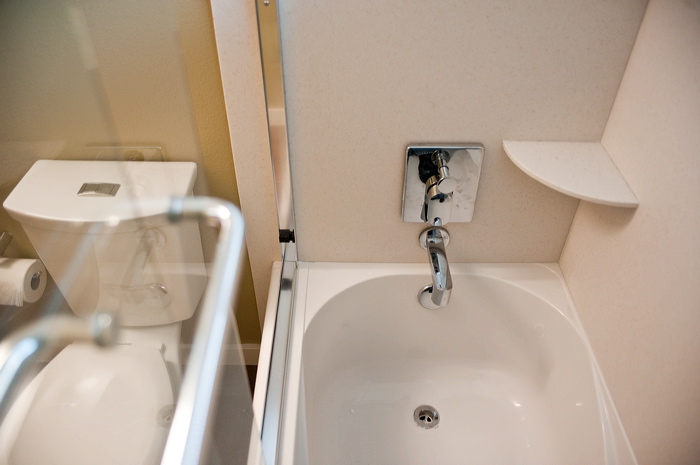 American Standard Moments™ Collection
The Moments™ Collection introduces style that is firmly rooted in architectural trends. It's a style that will last - valued for its simplicity and its functionality. The Moments Collection has ceramic disc valving for a lifetime of drip-free performance. The cast brass spout is durable and offers a lifetime finish warranty. . Replacing a standard 2.2gpm faucet with the water efficient Moments faucet at 1.5gpm will save the average family of 4 over 8,000 gallons of water. All residential Moments collection bathroom sink faucets are WaterSense® listed.
American Standard FloWise showerhead
The 3 function FloWise showerhead from American Standard let you decide when and how much you want to save. Choose from 3 distinct shower experiences that conserve water and energy without sacrificing comfort. The functions range from 2.0 to 1.5 gpm flow. Our exclusive auto-return feature reverts back to 1.5pgm flow every time you turn it off, so you'll always start with maximum water savings – 40% over the industry standard 2.5gpm. An average family of four can save more than 14,000 gallons of water a year.