The White House recently released a report that explores ways that we can enhance the resiliency of our built environment.
The report, based on years of data collected by federal agencies, the insurance industry, and building science experts, identifies programs, policies, and practices that can help reduce losses, lower insurance rates, and increase the market value of homes and buildings.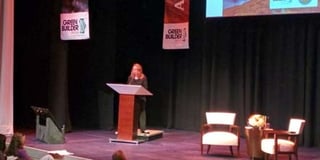 "Use your voice. Reinforce policies that work well. Engage in reasoned discourse. Lastly make Resilience and preparedness sexy..like the 'American Preparathon.' —Samantha Medlock at the Sustainability Symposium 2017
Join Samantha Medlock, Senior Advisor for the White House Office of Management and Budget, as she gives Green Builder Media an exclusive interview that delves into the report findings and offers insight into the all-hands-on-deck effort that it's going to take to enhance our country's resiliency.