THE TRAGIC MUDSLIDE that occurred on March 22 in the small 180-person town of Oso, Washington, is the second weather-related disaster in the space of 16 months that has touched me personally.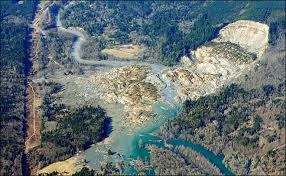 Oso's Slide. Is this the future that awaits us if we continue to ignore nature's limits? Photo courtesy komonews.com.

In the early part of my career, I was Deputy County Executive of Snohomish County in Washington state, a county government hitherto unknown to anyone outside the immediate area, the commercial aviation industry, loggers, and recreational Steelhead fishermen. It is the home of Boeing's manufacturing facilities for the 767, 777 and 787. The Stillaguamish River, now damned up behind the slide, was one of the world's most pristine fisheries. Oso, like too many small communities around the world, has now achieved global renown as the site of tragedy. Today, it takes its place in a media arc that wraps around the globe and reaches back over the decades — small communities suffering as nature does its thing.

The latter part of my career has been spent in New York City where, in November 2012, I was one of those evacuated during Superstorm Sandy. I was one of the lucky ones, evacuated due to inconvenience rather than hardship. Many are still suffering 1-1/2 years later and 285 people lost their lives.

The real tragedy of both of these events, and too many others around the world, is that they were foreseen, foreseeable — and, at least to some degree, preventable. I have talked before in this column about our ostracization of nature, our tendency to view violent weather-related events as some malevolent, conscious force against which we must rise and do battle. I have also shared my views on our complicity in such weather-related disasters such as our insistence upon living in places that are vulnerable and our haughty destruction of any natural buffers that obstruct our sea views or beach access. Add to this the perverse mindset that drives us to "show nature who's boss" by rebuilding the exact same thing in the exact same place that was our downfall.

"If we cannot relocate en masse to environments better suited for human habitation, then we must learn to live more sensibly in our chosen, less hospitable environments."

—Gary Lawrence


If we cannot relocate en masse to environments better suited for human habitation, then we must learn to live more sensibly in our chosen, less hospitable environments. Climate change is exacerbating the variability and intensity of weather patterns and events. There is no great appetite to mitigate the behaviors that compound climate change. We seem more inclined to resist and adapt to the resulting weather impacts. If this is the case, we are going to have to choose to live in places where there is less geological risk and where weather impacts can do less damage. And, in those places, we are going to have to create much better design.

Every investment we make in infrastructure is an opportunity to improve our resilience to natural disasters and to improve the quality of life for our citizens. By definition, such designs capitalize the maximum possible return on investment. It is clear that there are increasing risks associated with living in our chosen places on earth. If we are to take our future seriously, we must design adaptation and resilience attributes into every policy and project we invest in today.

Consider the $545-million renovation of South Ferry in NYC in 2009. Just one month before the grand reopening of the station, Mayor Bloomberg issued the first step in the PlaNYC Initiative to Protect Vital Infrastructure, a report that warned of the increasing likelihood that sea-level rise would cause major flooding and paralysis in New York City. Of the $545 million spent on the station renovation not one penny was invested in any kind of flood protection. This was not dumb or willfully negligent planning. It was simply the business-as-usual result of different agencies positively pursuing objectives from within the perspectives of their silos, using tried and true methods that had served them well enough over the decades. The failure lay in their inability to recognize that new information was available that could have informed design and reduced risk.

At the other end of the scale, we have the tiny town of Oso, Washington. Right around the time that Superstorm Sandy was battering the East Coast, the Washington State Department of Transportation was finishing up the Skaglund Hill Permanent Slide Repair project, a $13.3-million investment to secure the vulnerable hill on the south side of the Stillaguamish River and protect a state highway. Meanwhile, on the other side of the river in an area known to some local residents as "Slide Hill," construction of new residences continued apace. It is not my intent to apportion blame or point fingers. I simply wish to illustrate the fact that in both these cases — one where the potential for disaster was known but unaccounted for, and the other where the potential for disaster was known and significant investment was made in mitigating the danger for one kind of asset alone — our design responses failed.

The opportunity costs associated with resilient design can be high. They are even higher when individuals, institutions and investors choose to discount or ignore the risks. It is much less expensive and less complicated to design for what we know to have been true in the past in order to keep taxes low, spread scarce resources more widely or realize competitive advantage through cost management. This short-term approach is, in most instances, much more dangerous as well.

The key to our collective future in relationship to nature is not paranoia, nor is it ignorance. It is pragmatism. Hoping the bad thing doesn't happen is not a sound investment strategy. Nature is a highly complex system. The results of our interventions in its natural rhythms and patterns are unpredictable. We must accept that it is unlikely that we know the right answer to most of the vexing problems. However, we can know what is technically feasible, economically viable and politically acceptable today, and we can improve our understanding of the impacts and opportunities that occur at the intersection of each engineered and natural system. The globe is littered with examples of how we get things very wrong by discounting, underestimating or ignoring what we don't understand. We may not be able to provide the answers for the Osos, New Yorks, Kuala Lumpurs and the Philippines' around the world. But we can ask better questions on their behalf. How can we, using the resources available to us today, make better decisions to reduce risk for more people by accepting that nature is ever changing and we cannot rely on what has worked in the past?

Gary Lawrence is chief sustainability officer and vice president of AECOM Technology Corp. You can follow Gary on Twitter @CSO_AECOM. This content was originally published by Environmental Leader.
Related articles on www.greenbuildermedia.com:
Designing for Disaster Opens at National Building Museum

Strong is Sexy: Retrofitting for Disaster Mitigation
World on the Edge: How to Prevent Economic and Environmental Disaster