Thursday NPR Kojo's Nnamdi Show discussed how two Washington, D.C., universities—American University and The George Washington University—plan to get half their energy next year from solar power through their Capital Partners Solar Project. "Starting in 2015, GW will source half of its electricity from a solar farm in.
Duke Energy Renewables is developing the 450-acre solar farm based on the partners' joint request for 52 megawatts (MW) of solar photovoltaic (PV) power—roughly the amount of electricity used by 8,200 homes every year," according to a statement from GW.
The 52 MW solar farm is the largest east of the Mississippi, GW says. "Together, the partners will be purchasing about 2.3 million megawatt hours (MWh) of solar power over a 20 year period. GW is the largest purchaser, taking about 70% of the electricity from this project, resulting in a 30% reduction in GW's energy use compared to the 2008 baseline. The project's combined purchase, as well as GW's portion alone, is the largest non-utility purchase of solar power in the country according to the United States EPA's Green Power Partnership."
Supporters, such as Meghan Chapple, Director Office of Sustainability, The George Washington University (GW) hopes the precedent-setting deal will encourage more colleges, businesses and governments to move away from fossil fuels.
Chapple spoke first on the program saying, "Well, universities in general have been looking for ways to address climate change. There's really a movement across the country for higher education to commit to carbon neutrality. And so we're all looking for innovative ways to address that. And this means that we have found another way that higher ed. and other large institutions can really reduce our carbon footprint if others can strike deals like this."
But questions, particularly from Charles Frank, Non-resident Senior Fellow at the Brookings Institution, persist about whether solar power is too expensive and inefficient. Frank said he thought the universities were getting a good deal, "I'm not so sure, however, it's a good deal for the American taxpayer because this deal is fundamentally, to a large degree, financed by tax -- investment tax incentives which make it possible to happen. But for Duke and for George Washington, it's a great deal.
Frank also said, "Well, one of the problems is that it's very expensive to build a solar plant. For example, it costs, according to data provided by the Energy Information Administration, four times as much per megawatt of capacity to build a solar plant than it does to build a natural gas-fired plant. And in addition, a natural gas-fired plant can operate at 90 percent of capacity whereas a typical solar plant operates at 15 or 20 percent of capacity. So the cost of solar is very high, which is why you need to have government subsidies of one sort or another to make it feasible."
The program's third guest, Greg Dotson, Vice President for Energy Policy, Center for American Progress, described himself and his organization as energy agnostics. However, he pointed out that "all the energy sectors are subsidized to a certain degree. The five biggest oil companies...received $2.5 billion annually in federal tax breaks. And the congressional budget office, which is a nonpartisan institute, took a look at these subsidies. And they say that from 1916 to 2005 federal energy tax breaks were primarily -- their word -- primarily intended to stimulate domestic production of oil and gas.." His feeling is that solar has a lot of catching up to do, even though the price of panels has dropped and the number of installations is up.
Frank argued that solar did not make sense to him as solar farms because of the costs he mentioned, but he did allow as rooftop solar did make sense.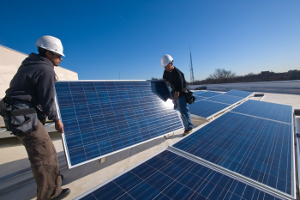 GW is a densely built university. Many buildings are 10 stories tall. GW's Chapple replied, "Well, in fact, we do have a relatively large campus for an urban center. We're located right in the heart of Washington just down the street from the White House and down the street from the national mall. So there -- that space we have is really on our rooftops. And our analysis shows that if we were to plaster every inch of our rooftops with solar photovoltaic tiles, it would get us a percentage of the way there, perhaps 5 to 10 percent at the most."
Full disclosure, much of the year, I live on the western edge of the GW campus.
You can hear the entire discussion on Kojo's Web site or read the transcript.
---
© 2016, Green Builder Media. All rights reserved. This article is the exclusive property of Green Builder Media. If you would like to reprint this content, you are free to extract a short excerpt (no more than 1/4th of the total article), as long as you 1. credit the author, and 2. include a live link back to the original post on our site. Please contact a member of our editorial staff if you need more information.