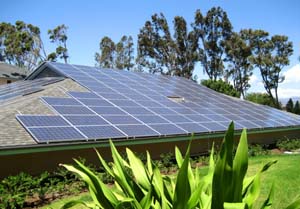 10 percent of Hawaiians use solar energy to power their homes despite the utility whining and sometimes refusing to tie their systems into the grid.
Monday, Jeremy Hobson of the National Public Radio program Here and Now interviewed Duane Shimogawa of Pacific Business News about Hawaii's burgeoning residential solar installations.
It's a tale we hear more and more often. Utilities are supposed to connect solar customers to the grid (so consumers don't have to have batteries to store electricity for nighttime use), but the utilities tell customers they can't tie them in.
Hawaii has lots of sunshine and also the highest electricity rates in the country" residential rates range from 35- to almost 47-cents per kilowatt hour. So it is no surprise that despite the challenges "at least 10 percent of Hawaiians are now using solar and the number is growing."
We've written about this before, particularly in November as we watched negative ads regarding solar installations in the continental U.S.
Like other companies, the Hawaiian utility claims it is "concerned about solar customers who use little traditional electricity and therefore pay little for access to the grid." Yet, as we have written before, no one gets away without an electric bill. My own bill rose from $7.95 to $11.25 a month for my NetZero home. In Hawaii, it appears that the monthly must-pay cost is in the $15 to $17 range. Utilities have regulatory hurdles and high expenses involved in adding power generation for an ever more power hungry digital age, so what is the deal that blaming the customer for using less power costs them money? Utilities are already generating as much power as they are able and have threatened to ration it. And let's not forget brown outs.
The brewing great debate is "who will pay to connect it to the grid — the utilities, residents or the state?" Shimogawa said, "Number one, we have some of the highest electricity prices in the country, so automatically, people are looking at other ways to bring those prices down. The second thing is, it's Hawaii — we've got a lot of sunshine throughout the year. And, you know, the third thing is help from the state and our policy makers who have created tax breaks and subsidies. And so you corral those three things together, and you've got the perfect storm, although, as you've noted, it has led to some issues, especially with integrating to our utilities grid here."
Because of high electricity costs, some electric bills "are in the thousands of dollars range, depends how big of a family you have. The average bill after you go solar, though, is around $15-17, so even if your bill is about a hundred bucks a month, I mean, that's quite a savings in itself," Shimogawa said.
Shimogawa says the utilities face a tough dilemma, the utilities " just recently... came out with a bill increase, and that's specifically for renewable energy improvements."
This is some of what I wrote in November, "Back in the day when electric utility companies were encouraging rooftop solar installation, they told consumers that installing their own solar panels helped the utilities. Installing solar prevented utilities from having to go through expensive, time-consuming and sometimes futile legislative processes to gain approval for more and/or larger generation facilities. Utilities told consumers that increasing population meant that there would be more demand for electricity, which could not be met without potentially rationing electricity. The solution, they said, was for consumers to step up with energy conservation (that often meant purchasing new appliances) and the installation of rooftop solar."
In the 1900s, when electricity started to become available, popular and desired, private investors set up companies, paid for the infrastructure and sold electricity; they also paid to maintain the systems. But as with most successful businesses, they only served highly populous areas -- cities. One of the most successful of the New Deal programs was Rural Electrification.
According to the Tennessee Valley Authority (TVA) Web site), "The Roosevelt Administration believed that if private enterprise could not supply electric power to the people, then it was the duty of the government to do so. Most of the court cases involving TVA during the 1930s concerned the government's involvement in the public utilities industry.
In 1935 the Rural Electric Administration (REA) was created to bring electricity to rural areas like the Tennessee Valley. In his 1935 article "Electrifying the Countryside," Morris Cooke, the head of the REA (Rural Electrification Administration) stated that
'In addition to paying for the energy he used, the farmer was expected to advance to the power company most or all of the costs of construction. Since utility company ideas as to what constituted sound rural lines have been rather fancy, such costs were prohibitive for most farmers.' "
Former U.S, Energy Secretary Steven Chu doesn't believe that solar installations threaten grid stability as the utilities claim. "That's another bullshit argument," he told Jeff McMahon in Forbes magazine.
"Instead of that, you need a better business model," Chu said. "So I'm telling utility companies, this is coming down the line, so let's think of a new business model where you can profit from this."

In Chu's business model, utilities will borrow money—because "utility companies get to borrow money as inexpensively as just about anyone in the United States"—to buy rooftop solar modules and batteries. Then they'll partner with private rooftop-solar installation firms—"because I don't expect a utility company to figure out how to do that"—to install rooftop panels and batteries at customer homes.
What utilities claim today sounds like the same complaints they made during the era of rural electricfication, except these days the utilities are arguing about who should pay for replacing their aging infrastructure. And the solution former Secretary Chu advocates sounds like a more private enterprise version of the answer that was the answer during rural electrification.
At the moment, solar customer fees are being raised. Fingers -- both of the utilities and of the already solar customers -- are being pointed. Solar could power the country and take away the threat of having to import fuels. Hawaii is a series of islands, maybe its solution will serve as a national pattern.
Check out Green Builder's exhaustive collection of solar articles here.
---
---
© 2016, Green Builder Media. All rights reserved. This article is the exclusive property of Green Builder Media. If you would like to reprint this content, you are free to extract a short excerpt (no more than 1/4th of the total article), as long as you 1. credit the author, and 2. include a live link back to the original post on our site. Please contact a member of our editorial staff if you need more information.