As many dig out again after a another winter snow punch, it is hard to believe that there has been less snow in the mountains. Less snow means less water in Spring as less snow melts and flows downhill to feed rivers. It also mean that to maintain a ski industry, places like Jiminy Peak Mountain Resort, Hancock, Mass., have to make their own snow.
A segment on CBS This Morning showcased the $4 million dollar wind mill that Jiminy Peak has installed to cut down on the cost of energy needed to make snow.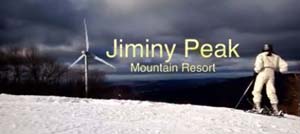 As CBS This Morning host Charlie Rose pointed out, the Sochi Olympics suffered some of "the most extreme weather of any Winter Games." The world watched as athletes faced slushy snow, manufactured snow, temperatures in the 60s and even fog. Rose said, "Research predicts that [such weather extremes] could become the new reality at ski resorts around the world."
The program featured Porter Fox, author of Deep: The Story of Skiing and the Future of Snow. Fox, an avid skier since the age of two, "believes winter sports could be doomed...We've lost a million square miles of snow cover in the Spring in the last 47 years." Based on research, he concludes that "half of the 103 resorts in the Northeast will likely not be able to stay open, and that's in the next 30 years, which is pretty shocking."
In Tucson, Ariz., the location of Vision House Tucson, the nearby Mount Lemmon Ski Resort has yet to open. There is some snow on the ground, but not enough to ski upon.
According to the National Oceanic and Atmospheric Administration (NOAA) snow cover on land in June on the earth's Northern Hemisphere "has been decreasing at a rate of nearly 20 percent per decade since 1979." Lack of snow, as Fox points out is a "very unique form of water shortage. Around the world, a billion people depend on snow melt for their freshwater supply." That's true of India and its Ganges River, China and its Yangtze River, and here in the United States with the Colorado.
Jiminy Peak Mountain Resort makes almost 90 percent of the snow needed for skiing. Tyler Fairbank, Jiminy Peak's CEO, says, "It was something that no one had ever done before, and it has been an absolute home run for us."
Even so, one needs access to water through rain or river to consistently make snow. Mount Lemmon, on the other hand, does not get enough precipitation or have access to enough water to economically make snow—for Mount Lemmon Ski Resort, it's a waiting game.
Porter says, "Glaciers in Europe, Alpine glaciers, they've lost half their volume, and that's in the last 150 years … There's a chain reaction that happens when snow disappears that's really devastating to everyone living downstream."
---
© 2016, Green Builder Media. All rights reserved. This article is the exclusive property of Green Builder Media. If you would like to reprint this content, you are free to extract a short excerpt (no more than 1/4th of the total article), as long as you 1. credit the author, and 2. include a live link back to the original post on our site. Please contact a member of our editorial staff if you need more information.