The American Dream Builders winning Blue Team's kitchen from Episode 101, "We've Outgrown Our House."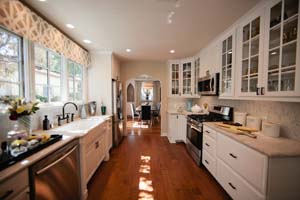 Green products are standard in many of the remodelings done on the new NBC television show American Dream Builders. And when viewers see products they like featured on the show, they can buy them.
Armstrong & Bruce flooring products are among the products featured.
American Dream Builders is a competitive reality show. It has elements from the competing ABC show Extreme Makeover Home Edition but adds elements of other reality competition shows: teams compete against one another to do TWO major design/build renovations. Like other such competitive shows, the losing team loses a member. The show is a tight-deadline driven building and remodeling program. On American Dream Builders, a red team and a blue team design and remodel houses that are usually next door to each other. Host and famous interior designer Nate Berkus is executive producer of the show and is among the team of judges that reviews the finished design/builds. However, it is local neighborhood councils on each show who "ultimately decide which team wins."
Each week, when the losing team, loses a member, judges often complain about how difficult the decision can be to choose the winning team and to choose which team member to send home. The program launched March 23rd and airs Sunday evening at 8 pm Eastern (7 pm Central) time. Or one can watch complete episodes online.
The weekly projects are "two massive, transformative home-renovation projects." Contestants must "redesign and renovate the space from the inside out - all in a matter of days, ultimately competing for a cash prize of $250,000."
From Spanish to Tudor to mid-century modern, the teams compete to "produce sweeping home renovations that bring a fresh, modern sensibility while remaining true to the home's innate charm and design characteristics." It's a tall order on a tight deadline.The neighborhood and judge consensus for Episode 101? Chicago homebuilder Jay Riordan's Team Blue best met the challenge of increasing livability and expanding the space.
The premier episode 101 started with "12 of America's top designers divided into teams" that "challenge their design, construction, leadership and teamwork skills." Episode 101's challenge was entitled "We've outgrown Our House." Teams had just five days to build out their remodels.
The competing houses were neighboring Tudor-style family homes. Riordan, the Chicago-area custom homebuilder, led Team Blue. Teammates were "Elaine Griffin, a New York-based interior designer; Andrew Flesher, an interior designer with a strong background in architecture; Nina Magon, a working mom versed in design and construction; Darren Moore, CEO of environmental design and consulting firm Ecovations; and Christina Salway, a new mom with a successful background in architecture and interior design."
Tarrick Love, a general contractor from Nashville led Team Red. Teammates were "Lukas Machnik, a Polish-born design star who's been dubbed Chicago's "bad boy of design;" Nancy Hadley, a California-based furniture designer, sculptor, and muralist; Erinn Valencich, a versatile interior designer based in Los Angeles; Vanessa Deleon, owner of her own design firm; and Dann Foley, a renowned residential and commercial/hospitality designer."
"We are delighted to work with the incredibly talented American Dream Builders team, and to have our products considered by this fabulous interior designers from across the country," says Mara Villanueva-Heras, vice president, marketing, Armstrong Floor Products. "People are feeling more confident and inspired to make changes to their homes, not only to increase the value, but more importantly to enhance their quality of life and find products that fit their lifestyles and tastes."
In addition to flooring, designers have incorporated Armstrong Ceiling Products and wall products.
Joining judge and executive producer Berkus, are judges Eddie George and interior designer Monica Pedersen. George is a former Heisman Trophy winner (Ohio State University) and NFL all-pro (Tennessee Titans) who is now become a renowned landscape architect. Pedersen appeared on several "Today-Show" segments and served as host on such HGTV shows as "Designed to Sell."
In the finale episode, the last two designers remaining will "take on renovations for two impressive Southern California homes, bringing their unique vision to life."
Viewers can virtually tour the homes and purchase specific items featured.
Universal Television in association with Steele Mill Productions, Inc. produces American Dream Builder. Berkus is executive producer along with Tom Shelly ("Love in the Wild," "Survivor") and Jason Ehrlich ("Ready for Love," "The Bachelor").
---
© 2016, Green Builder Media. All rights reserved. This article is the exclusive property of Green Builder Media. If you would like to reprint this content, you are free to extract a short excerpt (no more than 1/4th of the total article), as long as you 1. credit the author, and 2. include a live link back to the original post on our site. Please contact a member of our editorial staff if you need more information.