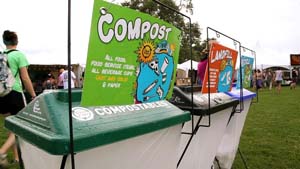 The popular Bonnaroo Music and Arts Festival will seek to break its own record for turning trash into compost this week.

Last year, the four-day event turned an incredible 120 tons of waste into compost – collected and processed right at the farm where the festival in Manchester, TN, is held. That includes tens of thousands of compostable beer cups, plates and utensils made by Eco-Products of Boulder, Co.

Starting Thursday, they'll work to top that.

"With some 100,000 guests in your backyard for four days, you can only imagine the cleanup involved," said Laura Sohn, Sustainability Manager for Bonnaroo. "That's why it's so important that we've found smart, sustainable ways to handle all the waste that a major event like this produces. We literally are turning trash into treasure for our farm."

Bonnaroo, featuring acts ranging from Kanye West to Jack White to Elton John, kicks off on Thursday and ends on Sunday. The event attracts tens of thousands of visitors every year to a private, 700-acre farm roughly an hour south of Nashville.

With that kind of attendance, waste generation can add up extremely quickly. Food waste – and the packaging associated with it – is a leading component of the overall waste. That's why Bonnaroo has been utilizing compostable products like beer cups, plates, and forks and spoons for the past 11 years.

What makes Bonnaroo unique: Rather than send its organic waste to an industrial compost facility to be processed and then sold to farmers, Bonnarro collects and processes its food waste and packaging on site at the farm.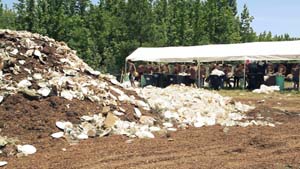 "There's nothing better than seeing our cups and plates go from serving thousands of festivalgoers to serving a farm," said Wendell Simonson, Vice President of Marketing for Eco-Products, which makes all of the compostable plates, cups and utensils used at Bonnaroo.
What's more, keeping organics out of landfills helps curb the generation of greenhouse gases. When food waste enters a landfill, it emits methane as it breaks down, and methane is 21 times more potent as a greenhouse gas than carbon dioxide.
"Bonnaroo's organizers and fans deserve credit for using compostable cups, plates and utensils," Simonson said. "They are walking the walk, and everyone benefits."
Using compostable products is only part of Bonnaroo's commitment to the environment. Thanks to its enterprising composting, recycling and upcycling programs, the music festival diverted more than 366 tons of waste from landfills last year. Organizers hope to continue their progress and divert even more this year.
"We've always said we don't want just to be the best festival. We also want to be the greenest festival – and persuade others to follow," Sohn said. "We believe our commitment to being green doesn't hurt the Bonnaroo experience, but instead defines it and makes it even better. Our fans want to eat good food, enjoy great music and change the world for the better. We help them do all of that here."
About the Bonnaroo Music & Arts Festival
The Bonnaroo Music and Arts Festival is a four-day, multi-stage camping festival held on a beautiful 700-acre farm in Manchester, Tennessee every June. Bonnaroo brings together some of the best performers in rock and roll, along with dozens of artists in complementary styles such as jazz, Americana, hip-hop, electronica, and just about any contemporary music you can think of. In addition to dozens of epic performances, the festival's 100-acre entertainment village buzzes around the clock with attractions and activities including a classic arcade, on-site cinema, silent disco, comedy club, theatre performers, a beer festival, and a music technology village. For its peaceful vibe, near-flawless logistics, and unrivalled entertainment options, Rolling Stone magazine named this revolutionary entertainment experience "one of the 50 moments that changed the history of rock and roll." Learn more at www.bonnaroo.com.
About Eco-Products
Eco-Products, based in Boulder, CO., has been making sustainable products since 1990 and continues to be a leader in innovation. Its products include compostable and recyclable plates, cups and utensils. Learn more at www.ecoproducts.com
---
Courtesy of News Release from Pankowski Media, Mark Pankowski, 301-260-9250
---
---
© 2016, Green Builder Media. All rights reserved. This article is the exclusive property of Green Builder Media. If you would like to reprint this content, you are free to extract a short excerpt (no more than 1/4th of the total article), as long as you 1. credit the author, and 2. include a live link back to the original post on our site. Please contact a member of our editorial staff if you need more information.