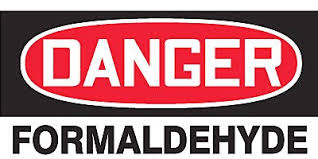 For several years now, formaldehyde has been on the EPA's list of probable human carcinogens. Back in 2011, at the request of controversial senator, David Vitter, R-La (since unseated), a study concluded that formaldehyde should be considered an irritant, but not carcinogenic. But this new report by the National Academy of Sciences reverses that finding.
According to NOLA.com, "The new report found sufficient evidence of carcinogenicity in human and animal studies and "convincing relevant information" that formaldehyde induces mechanistic events associated with the development of cancer in humans." Based on these findings, the committee concluded that EPA can list formaldehyde as a "human carcinogen."
Just how toxic is formaldehyde? How strong an airborne dose can harm you? That's an open question, especially with regard to long-term effects. The EPA requires that any new agency building contain no more than 0.016 ppm formaldehyde. But a 1996 sudy ("Residential Indoor Air Formaldehyde Testing Program: A Pilot Study," M. Koontz, et al, prepared for U.S. EPA, 1996) measured formaldehyde at 0.076 ppm at completions, a figure that dropped to 0.045 ppm after 30 days. But other studies have shown that levels of .046 ppm can cause respiratory problems. The stuff is toxic. That's the bottom line. Drinking a single ounce of formaldehyde would likely kill you.
What will the new finding mean to the building and furnishings industries? For the most part, they know the race is on to replace formaldehyde in their products. But so far, few have been able to remove formaldehyde comletely from particle board, plywood, mdf and other key materials. Even companies such as IKEA, which are perceived as green, continue to sell products containing formaldehyde. Of course, many other products contain formaldehyde as well.
Why do companies continue to use formaldehyde? In short, the answer is that they haven't settled on a less toxic alternative with the same strength and durability (that's also affordable). And formaldehyde is flexible and convenient. It can be mixed with urea, phenol or melamine to form a strong adhesive bond. Some companies have gone further than others in removing formaldehyde from certain product lines. For example, Owens Corning offers a formaldehyde-free insulation. For the most part, however, even green-minded companies such as Herman Miller are struggling to find alternatives to the formaldehyde common in so many products and materials.
Get the full formaldehyde report HERE.
Citation: National Research Council. Review of the Formaldehyde Assessment in the National Toxicology Program 12th Report on Carcinogens. Washington, DC: The National Academies Press, 2014.
---
© 2017, Green Builder Media. All rights reserved. This article is the exclusive property of Green Builder Media. If you would like to reprint this content, you are free to extract a short excerpt (no more than 1/4th of the total article), as long as you 1. credit the author, and 2. include a live link back to the original post on our site. Please contact a member of our editorial staff if you need more information.