Can pre-fab construction cut the cost of a low-energy home? And if you (pre) build it, will they come?
By Tux Turkel
CAN SPENDING LESS ADD UP TO ZERO? Builders have learned that if they have big enough budgets, it's not hard to create custom homes that produce as much energy as they consume over a year.
But what does it take to make net-zero affordable?
Some architects and developers have begun tackling these questions by teaming up with modular home builders, combining the cost-cutting efficiency of prefab construction with high-performance energy practices. This approach is still new and evolving. But just as in stick-built construction, assembling the right mix of components at the right price and meeting buyer expectations are key challenges.
Also worth asking: Is net-zero worth the extra money, or does near-zero often make more sense?
These considerations are front and center in Portland, Maine, where a trio of modular, near-zero homes are set to rise this year on Peaks Island, a year-round, coastal community in Casco Bay.
The factory-made houses will replicate the charm of the New England-style cottages that are common on the Maine coast. But in contrast to the drafty originals, these homes are designed to use one-third as much energy as a standard new house.
The homes will be offered through a local affordable-housing group and will be designated as workforce housing. They will feature an energy package designed for Maine's cold winters: airtight construction, triple-glazed windows, heat recovery ventilation, and foot-thick, double-stud walls, crammed with dense-pack cellulose to R-40.
Overhead, there's an R-60 roof. Outside, south-facing windows will help warm the house in cold weather; roof overhangs will help block sunlight in the summer.
The on-site cost of these homes will be roughly $185,000.
Adding 5 kW of solar electric and solar hot water panels-–-the energy production needed to achieve net-zero-–-would add $20,000, before tax credits. That's just not in the budget now for this affordable housing project, but the homes will be plumbed and wired so that solar hot water and/or electric could be added later.
These energy-sipping prefabs will be the first of a Modular Zero Collection designed by Kaplan Thompson Architects of Portland, Maine, and are being created by the state's leading modular home builder, Keiser Industries, LLC of Oxford, Maine. The idea sprang from a LEED Platinum, net-zero office-studio that Kaplan designed a few years ago in Rockport, Maine. The BrightBuilt Barn was custom-made and expensive. But it led Phil Kaplan, a principal at the architectural firm, to think about how to make a production line of affordable and stylish net-zero homes.
Offering Options
The line has three options. The smallest model, the Chebeague, is 960-sq. ft. and includes two bedrooms and bathrooms. The Peaks is 1,200-sq. ft, with three bedrooms and two bedrooms.
The largest is the Great Diamond (pictured above), with 2,200 sq. ft. and a finished third floor. A prototype for this model is a Kaplan-designed, stick-built home erected last year in Falmouth, Maine.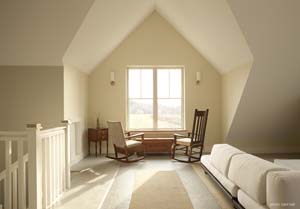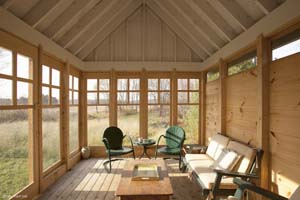 These modular models have attracted a lot of attention in the Northeast, and Kaplan has been talking to interested modular home builders elsewhere in the region and the Midwest. As of April, however, the Modular Zero Collection had no firm buyers.
What has become apparent, Kaplan says, is the presence of two distinct demographics. Traditional modular customers, he says, want to pay about $100 sq. ft. for a factory-built home. Many can't afford his $140 sq. ft. target price for net-zero. On the other hand, buyers in the market for a low-energy home think $140 per square foot is a bargain for net-zero. But they want special amenities, changes, and custom features that boost the price.
"Everyone seems to be excited," Kaplan said, "but we're still learning what the real market is."
Upfront Savings
Other green, modular builders also are recognizing the need to offer a range of
options for varied markets.
San Francisco-area architect Michelle Kaufmann is widely known for her variety of sustainable, prefab designs. Last year, her Michelle Kaufmann Studio launched three models of Zero Series homes, available in different sizes and prices. Customers appreciate that the company already has done a lot of research on options, Kaufmann says, and can offer them a thoughtful selection, based on the building site and their personal preferences and lifestyles.
"It allows them to spend their focus and energy on things they really care about," she says, "without having to do all the research work that they might not have time or interest for."
In designing affordable net-zero, Kaufmann says, it's also critical to remember that customers in this market are more interested in monthly payments than long-term payback. The most cost-effective thing to do for them is to minimize energy use through efficiency, she says, because the savings offer lower monthly payments right off the bat.

Big Ambitions
Perhaps the most ambitious vision for modular net-zero is taking place at San Francisco-based ZETA Communities.
Backed by millions of dollars in venture capital funding, the start-up operates a 91,000-sq. ft. factory in Sacramento, making mostly town homes, condominiums, and multi-family units. Its most recent project is Tierra del Sol, 22 net-zero homes in an affordable community in Stockton, California. The company recently announced plans to expand to the Northwest later this year, and go national over time.
Homes coming out of the Sacramento factory are largely custom-designed for clients, according to Shilpa Sankaran, ZETA's co-founder and vice president for marketing. Starting with a basic, prefab package, however, cuts costs 10-20%, compared to stick-built net-zero.
ZETA typically integrates solar electric to achieve net-zero; solar hot water is considered case-by-case. If a project's budget is tight, ZETA also wires and plumbs homes to be "net-zero-energy ready," so solar can be added later.
An important lesson, Sankaran says, is to work from the start with an integrated design team that includes builders and engineers, so that the home actually performs as planned. An often-overlooked member of that team is the owner. If the owner wants lots of north-facing windows and inefficient lighting, for example, and makes power-hungry lifestyle choices, the house won't meet the net-zero design projections-–-no matter how well it's designed.
"Think about how the house is going to be used," Sankaran says.