As solar and smart technology continue to change, homeowners face exciting times ahead.
THE SOLAR AND SMART HOME technology categories are growing at meteoric rates. To date, the sectors have remained relatively independent, but their convergence will soon offer a game-changing level of control, independence and peace of mind to homeowners.
The global solar industry, expected to reach $345 billion by 2020, and the global smart home market, expected to hit $59 billion that same year, are arguably the building industry's fastest-growing sectors.
One of the main drivers for this meteoric growth is the unprecedented transition from a high-consumption and low-automation market to the opposite: one of low consumption and high automation. This transition is fundamentally altering the performance of our built environment and the way that we interact with it.
Comfort Level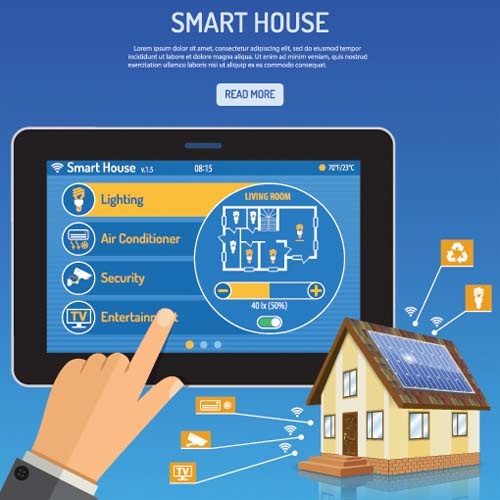 It's easy to see why smart home and solar technologies appeal to homeowners. Smart home technologies that learn our behaviors, upgrade themselves seamlessly and take the human error out of home performance make our lives more efficient, convenient and sustainable. Advanced solar power systems enable us to generate, store and monitor our own power (and in some states, profit from that generation by selling power back to the grid via net metering). They also allow us to become more independent and self-sufficient.
Convergence of these sectors is expected to completely transform the homeowner experience. Smart home and solar share the same ultimate goal: to provide homeowners with a greater level of control over their homes. And as technologies in both categories become mainstream and affordable, it's clear that they will not remain stand-alone islands. Rather, they will sync as a part of an integrated ecosystem that empowers homeowners to optimize performance of their homes, resulting in enhanced security, cost savings and peace of mind.
Why get started?
When it comes to purchasing enabling technologies (smart home products or solar), homeowners take the leap for a variety of reasons. Solar now provides a cost-effective way for homeowners to reduce their dependency on utilities and play a role in helping to meet our global sustainability goals. In regards to smart home technologies, studies show that most homeowners are initially interested in security (locks and cameras) and energy management (thermostats and monitoring technology).
Regardless of the hook, once a homeowner becomes familiar with the benefits of enabling technologies, they generally want more. Studies show that almost half of all Americans own smart home technology or plan to invest this year, and once a homeowner purchases one smart home product, they're 93 percent more likely to purchase additional ones. They want to learn more about the larger ecosystem and immediately begin searching all options.
Getting Integrated
From a business perspective, solar and smart home technology companies have a watershed opportunity to leverage each other's successes, creating partnerships that expand their marketing and branding power. Already, there is technological and marketing integration within the smart home tech space. For example:
SMA America is offering a whole-home integrated system that connects smart and solar technologies.
SunPower has teamed up with ecobee to create streamlined energy production, storage and monitoring capacities.
SolarCity and Tesla have partnered with Nest to allow homeowners to produce and store their own energy, and leverage the "Works with Nest" program to interconnect a wide range of products and systems. These include Whirlpool appliances, where if Nest detects that a homeowner is away from home, it will tell the appliances to run on longer, more efficient cycles; and Rachio smart irrigation controllers, where Nest smoke detectors turn on the sprinkler system to wet the home's exterior in the event of a fire.
Utilities and the regulatory environment are also entering the picture. Factors such as rate restructuring, time-of-use pricing, fees on net metering, and residential demand charges are shaping the landscape of the solar industry and will soon impact smart home technology. With utilities concerned about grid reliability, resiliency and cost shifting, solar will soon be required to connect with smart home technology as an effective load management strategy.
Kings of Industry
As solar and smart home technology converge, expect to see a rush of service providers offering personalized settings and customized energy packages that suit homeowners' lifestyles, preferences, and work and travel schedules.
The ocean of opportunity invites new players like metadata behemoths Google, Apple and Amazon into the space, giants that have a long history of disrupting industries. This begs the question: Who will win this mad dash? Will it be the tech goliaths, disrupting yet another business sector with their innovative, artificial intelligence-based solutions like Google Home and Amazon Alexa? Or will the solution come from partnerships developed by the solar players and the smart home tech companies themselves?
The solar and smart home tech companies may have the foresight to claim their fair share of the evolving market. But don't discount the data behemoths when it comes making a play for the larger space of integrated enabling technologies. They have certainly have proven time and again that they have the creative capability and business flexibility to transform the homeowner experience.
Regardless of the ultimate winner, it's clear that smart doesn't just mean connected anymore. Smart technologies represent a much broader ecosystem of enabling technologies that bring a new level of control, security and cost savings. Watch as the solar and smart home sectors converge to empower homeowners to live more independently, resiliently and sustainably.
---
© 2016, Green Builder Media. All rights reserved. This article is the exclusive property of Green Builder Media. If you would like to reprint this content, you are free to extract a short excerpt (no more than 1/4th of the total article), as long as you 1. credit the author, and 2. include a live link back to the original post on our site. Please contact a member of our editorial staff if you need more information.