An investigative report last year exposed a duct cleaning rip off, although they failed to address the bigger issue of duct diligence.
FIRST, the producers at America Now brought in their own licensed and accredited contractors (one licensed in mold detection and remediation), to check out a home's ductwork. Aside from dust, they found, there was nothing wrong with the ductwork.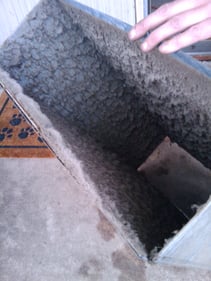 One of the home's producers posed as the homeowner and responded to a duct cleaning company for a duct cleaning and furnace inspection at the $99.95 advertised price. Just a few minutes after the cleaning crew arrived, they claimed to have spotted a problem with black and green mold. The special offer "morphed into three options, ranging from $921 to more than $3,400 for problems that did not exist and work that did not need to be done," America Now reported.
America Now also said that the credentials of duct cleaning/mold inspection companies are often difficult to verify. The program suggested that consumers shop by certification, people certified by the Institute of Inspection, Cleaning & Restoration, the National Air Duct Cleaners Association or the American Council of Accredited Certification. The companies, if they suspect a problem, "should also recommend and allow an independent, third-party mold test in to maintain neutrality," the program recommended.
But mold is not the only health risk associated with dirty ducts, so even if ducts are mold free, that doesn't mean they're SAFE for occupants. For example, Asthma and Allergy Foundation of America notes that the causes of asthma include "dust mites, pollens, molds, pet dander, and even cockroach droppings. In many people with asthma, the same substances that cause allergy symptoms can also trigger an asthma episode." Note that there is NO MENTION of mold. This is not to say that duct cleaning scams are ok. But the level of cleaning needed to keep a sensitive person free from allergy may be much higher than the "mold" standard suggested by this news report.
View the report from America Now HERE.