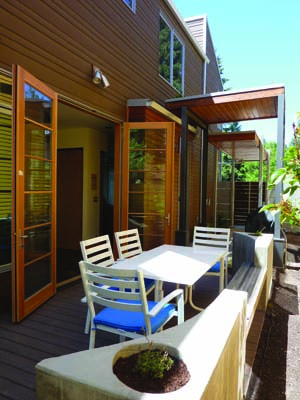 WHEN SARAH AND HER HUSBAND
(surnames withheld) purchased what is now the Helios Eco-House in Bend, Oregon, the primary goal was to achieve LEED standards. But after doing much research, the biotech and engineer couple discovered that "if you're willing to go a little further, it's really painless to go net zero."
When the couple purchased the 2,145-square-foot house in 2010, construction hadn't been completed due to the drop in the housing market in 2006. Sarah considered this a unique opportunity.
"It's one thing to read about green building, and another to immerse yourself in it," she says. By March 2011, the couple completed construction on the three-bedroom, three-bath house to achieve LEED Gold for Homes (the first in Oregon), and the property began to operate as a short-term vacation rental. The rental income was immediately reinvested into the house, including the installation of the PV array, and by June 2011, Helios Eco-House had achieved
net-zero energy
.
"It's the only net-zero property in the area that I know of," Sarah says.
Powering the home is a 2.59-kW grid-tied photovoltaic solar panel array on the roof. Each solar panel has its own microinverter, which leaves the whole array unaffected if one panel breaks down. "Little decisions like that helped maximize what we're doing," Sarah adds.
Typically, the house is able to send back excess energy into the grid on a monthly basis, except for a small dip in January and February, depending on the snowload. But Bend is located in what's known as a "high desert" climate and enjoys a prime solar environment, with over 300 days of sun a year. A display in the garage and online allows visitors to monitor the performance level of the PV array.
Guests can leave a minimal carbon footprint by walking to local restaurants, cafés and markets and cycling or taking a shuttle bus to nearby attractions. The house also maintains a "mid-century modern" aesthetic, complete with vintage furniture, which allows guests to try out an eco-friendly lifestyle without sacrificing ease or comfort.
"People can stay very comfortably and not have a lot of waste as a result of their stay," says Sarah. "And other guests come because they are specifically interested in the concept of this house."
---