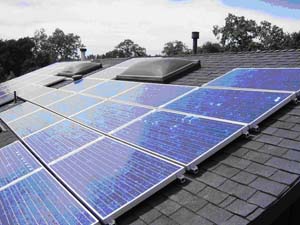 DISTINCT AS THE FIRST
photovoltaic (PV)-powered production home in coastal Brevard County, Florida, the St. Croix sets the pace for
LifeStyle Homes
' leadership in developing net-zero housing. Completed in August 2010, this four-bedroom, three-bath revised model is the company's first net-zero-energy residence.
LifeStyle Homes introduced its SunSmart line of energy efficient homes two years ago. The St.Croix model is packed with energy and water-saving features, including an 80-gallon solar hot water system, photovoltaic attic fans, and 15 SEER HVAC equipment, plus PV panels—bringing it to better than net-zero-energy performance.
An 8.0 kW PV system consisting of 160 flush-mounted, integrated 50-watt panels provides a torrent of solar power. The system is divided into two sections. The first 60 panels are pitched at 202 degrees and feed a 2,500-watt PV power inverter, while another 100 panels are pitched at 112 degrees with a 4,800-watt PV power inverter. A solar hot water system with a PV-powered circulating pump provides an 80-gallon hot water supply.