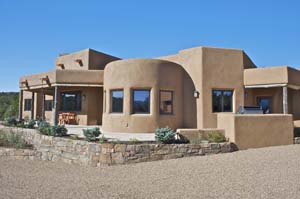 WE WANTED TO DO A
project that went the whole distance in every category," notes builder Faren Dancer. "Santa Fe has adopted the 2030 challenge—which says we need to get to zero emissions in new homes by 2030. Our intention was to show that it can be achieved now."
The Emerald Home, as Dancer calls this project, met that goal—attaining a
HERS rating
of 35 before adding PV panels. After the PV, the HERS Index dropped to -2. The home goes above and beyond on almost every level, with double-wall wood framed construction to prevent thermal bridging, Solatube daylighting in several rooms, site-made compressed earth blocks (CEBs) for interior walls, and salvaged wood for beams, cabinets, pantries, and even the ceilings in the media room. A geothermal radiant floor system combined with solar hot water provides heating, and a hybrid cooling system has 40 SEER of cooling capacity at only 580 watts. Tax credits from combined geothermal and solar systems paid $56,000 of the approximate $140,000 spent on those systems.
But Dancer understands that an appealing home design is essential to spreading the gospel of green.
"When I build, I want innovative techie aspects to integrate with the design—not make a statement," he says. "I wanted a pueblo-style design, so that as you walk up to the house, it fits with local style. If you want see all the high-tech aspects, you have to look down on it from high above."
Dancer also feels strongly that durability should play a bigger part in a home's green pedigree. "I'd much rather put down a limestone floor that will last the life of the home than a bamboo floor that will need to be replaced in three years," he says. The stone may cost more up front, but which is more green?"
The Emerald Home was built as an educational showcase home—not a custom house. As such, it makes few compromises in sustainability. Despite its large (4,150 square foot) size, it achieves its net-zero goal. In fact, Dancer helped write the local building code, including a clause that insists that homes over 8,000 square freet must be built net zero. The building also captures 100% of roof rainfall—storing it in three 1,700-gallon cisterns.
The builder is using the finished home to educate both the public and design professionals on how to build sustainably. He's well aware that when building a larger than average home, taking steps to reduce the initial construction footprint are important, both for the planet and for his credibility.
"That's why we used immense amounts of reclaimed and recycled materials in this house," he says. "That's one way to reduce the impacts of construction."