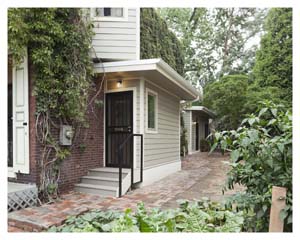 AS MANY GREEN EXPERTS
will point out, the greenest home is an existing home that has been "saved" and turned into a high-performance unit - a residential
retrofit
. That was the case with this 1890s two-story row house outside Philadelphia.
The owners loved their home where they have lived for the past 35 years, and which is within walking and biking distance of work.
They wanted to update the house to reflect their Quaker values: unpretentious, earth friendly, and functional.
The modest addition they settled on added a spare 320 square feet. Attached to the kitchen, it incorporates a bedroom/study with storage, an accessible bathroom, laundry, and an entry from the urban garden.
The main part of the house was air sealed and insulated with spray foam in the basement and cellulose in the above-grade walls and roof. The team also replaced the older furnace with a 95% efficient unit.
According to David Closterman, builder and owner of DCI Enterprises, the project was unique from a reuse standpoint. "We focused on demolition, seeing if there were any usable materials. For example, we used the old roof sheathing and roofing for a temporary access path," he notes.
The owners had salvaged brick for years in anticipation of the project. "A couple of times, I had to say to them, 'Are you sure you want to reuse that?'" Closterman jokes. The team used floor joists to make trellises for the windows, reused pine flooring, and reused lumber for braces and batter boards. This frugal sensibility is part of the reason the project stayed within its budget.
"From a design standpoint, it was great to have engaged in reuse," says Paul Thompson, a project architect. "We had to make it as much like a ship as possible so functionally it works great—but it doesn't have a spare square foot of fat."