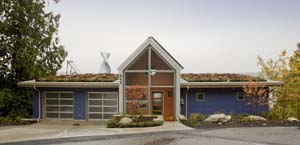 UNDER NORMAL CIRCUMSTANCES, it would be hard to imagine a home on this site, high atop a cliff, surrounded by breathtaking views. But neither this home, known as the Zero Energy Idea House, nor its
architect, are of the average variety.

"It's self-evident that this design is saying 'I'm a different kind of house,'" says architect David Clinkston. "That was the intention—that you see the green roofs, PV panels, solar hot water panels and vertical axis windmill. These are all visible from the road. A 'green wall' at the main entrance (to reduce afternoon solar gain) is another clue that all is not 'normal' with this house." The wall is a galvanized steel grid that will provide privacy when vines grow over it.

Not every aspect of the home's infrastructure is obvious, of course. The structural insulated panel (SIP) structure sits atop concrete grade beams that thrust back into the steep slope, and the below-grade wall at the back of the house was poured into ICFs.

The house is heated with a Warmboard radiant floor system—wood panels coated with reflective aluminum.
"That aluminum skin is thick," Clinkston says. "with grooves that direct the heat exactly where you want it."

Advanced Engineering
The architect took the owner's interest in "seeing the bones" of the home seriously, specifying a steel frame as the carriage for the SIPs.