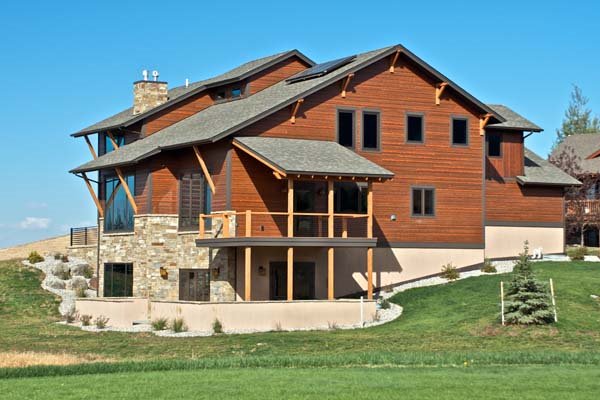 2013 Green Home of the Year Awards
Educational Ecohome - Bozeman, Mont.
This unusual project home in Montana is being monitored to test various energy-saving strategies.
DUBBED THE REHAU® Montana ecosmart house, this project earned a HERS rating of 33—an essential feature for a 6,786-square-foot floorplan hoping to be taken seriously as a "green" project. The ecohome is being evaluated and studied by the Montana State University Creative Research Lab
(MSU CRLab).
The building envelope is built of both insulated concrete forms (ICFs) and structural insulated panels
(SIPs). The house features geothermal heat exchange and radiant cooling panels—along with solar thermal. For research purposes "the house design includes overlapping, interactive technologies [to monitor and in some cases, adjust] heating and cooling, fresh air intake and ventilation, insulation and the building envelope."
An Internet-accessible HVAC-control system prioritizes based on likely performance, "choosing the greenest available energy first." The radiant system and solar panels also extend to snow and ice melting.
In 2014, the homeowners will move in. Data collection, comparison and analysis will continue for several months, in order to verify conclusions reached during the research phase.