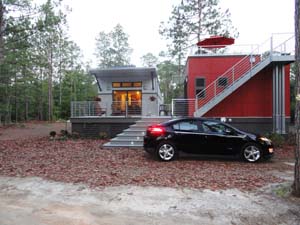 JUST OUTSIDE SAVANNAH on an organic farm developed for a new zero-energy lifestyle sits a modular home that produces as much energy as it uses. The home was built in a factory, which reduced resource use, kept costs in check, and expedited the schedule.

The house, dubbed iHouse by Clayton Homes, the company that designed and built it, offers a host of sustainable features, but it was the house's energy efficiency that attracted Charles Davis, president of The Earth Comfort Company.

He built an iHouse for himself, which also serves as a model home. He handled all the site work and added a geothermal heat pump and 3kW PV panels.

"I chose the house for its thermal envelope," Davis explains. "I tell everyone if you start with good, tight envelope then you need less geothermal and solar. I put just enough solar on my house to cover peak usage." He takes advantage of Georgia Power's reduced rates for off-peak power use by, for example, charging his Chevy Volt at night for 1 cent per kWH. And he uses an energy monitor connected to his iPhone to monitor the energy use of each appliance in his home. "The most important green product is the energy monitor, which allows you to see the actual wattage by each appliance and number of watts of power produced by the solar panels, and the number of watts sold back to Georgia Power," Davis says.
Read More