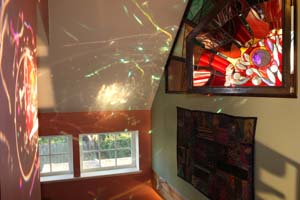 MOTIVATED TO REDUCE
their footprint and their overhead, Kol Peterson and Deb Delman chose a lot in a walkable, bikeable Northeast Portland neighborhood for their Accessory Dwelling Unit, or ADU.
"The project encompassed a bunch of passions," says Peterson, who works as Web manager for the Forest Service. Stephen Smith of Design Build Portland acted as general contractor, but Peterson and Delman put in an estimated $15,000 in sweat equity.
Their two-bedroom house measures 799 square feet, but feels much larger, thanks to Studio Eccos designer Brint Riggs' open plan. The ground level includes a vaulted kitchen, living room nook and a corner office that doubles as a second bedroom. Upstairs, a short bridge connects the master bedroom to the bathroom, and shows off the custom steel railing.
Local artisans added personal touches to the house. Eric Bohne and stained-glass artist David Schlicker collaborated on a stained-glass starburst in a hinged steel frame, which acts as a sound barrier between the master bedroom and the vaulted space. Peterson sourced fixtures from the Habitat for Humanity ReStore, flooring from Craigslist, doors from the Rebuilding Center.
Their ADU has been featured on Portland's Build it Green! (BIG!) Tour two years in a row, and earned an Energy Performance Score of 35. The project came in at just under $100,000; best of all, rental income from the front house now covers the couple's mortgage.
"I didn't know a thing about this when we started," says Peterson, who chronicled the experience in a detailed blog. Last year he began hosting workshops to help people navigate through the process of building their own ADUs.