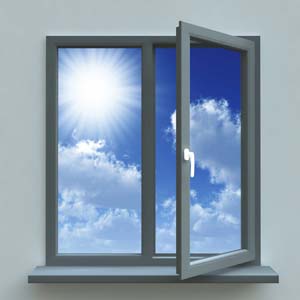 Windows by the Numbers (and Letters)

There are several ways to measure a window's performance. Your region's climate will dictate which factors to favor.

U-factor: This value measures how well the window prevents heat from escaping a building, and takes into account the window's framing, glazing, weather-stripping and more. The lower the number, the better the performance. Windows with low U-factors work well in cold climates.

Solar Heat Gain Coefficient (SHGC): This factor measures how well the window blocks radiant heat, on a scale from 0 to 1. The lower the number, the more heat is blocked. Windows with low SHGC value are suitable for hot climates.

Visible Transmittance (VT): This number measures how much sunlight the window allows into the building, on a scale from 0 to 1. A higher VT value means better daylighting.

R-value: This factor measures the window's resistance to heat loss, or conductance. In general, R-value isn't the best measure of a window's total performance.

Low-e Glass: Low emissivity coatings reflect UV and infrared rays, but allow visible sunlight to pass through the glass. These coatings help keep heat out of a building in summer and keep it from escaping in winter.
WHEN IT COMES TO
energy efficiency,
windows
are problematic; they're essentially holes in an otherwise insulated wall. Glass makes up about 15 percent of the wall space in an average home, and inefficient windows can cost over $700 a year in wasted heating and cooling costs. This loss accounts for approximately 2 percent of all energy consumption in the U.S. Upgrading window products, whether you retrofit or replace, means upgrading building performance and cutting back on hundreds of dollars in energy bills.
Taking the climate zone into consideration is one of the most important factors in selecting the right kind of window product for a new or existing residential construction. Typically, the colder the climate, the lower the U-factor of the window should be. But regardless of region, you also need to control the discrepancy between indoor and outdoor temperatures, the quantity and quality of sunlight and, of course, air leakage.