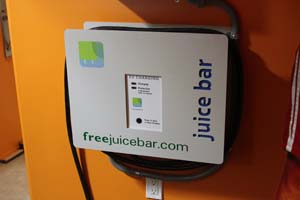 PHAT Energy designed and installed the 18 kw solar photovoltaic system. It consists of 64 panels, providing enough energy to power this home and electric vehicles. Unused energy can be stored in the battery backup system by GESS.
Photos by Heather Wallace
We had the entire design agreed upon after three meetings," notes designer Marco DiMaccio, " mastermind behind this unusual project.
He likes to work fast. "After three additional dinner meetings," he says, "we had the details worked out."
The previous house, a 3,200-sq. ft. 1950s home in "terrible shape," would have cost as much to renovate as the price of the new structure, DiMaccio asserts. The new house is larger—yet more energy efficient. At 4,300 sq. ft., it's platinum LEED certified, and in a size range that's compatible with the local high-end market.
Much of the demolition material from the original house was reused in one way or another in the new. For example, the old mineral-based roofing was pulverized and used as aggregate for a parking area. The builder also refinished and reused much of the hardwood flooring from the original house.
"The remainder of materials were sorted for recycling on-site and delivered by Waste Management directly to their respective recycling centers," say DiMaccio. "All told, we helped recycle 60 tons of wood, concrete, drywall and metal. Roughly another 60 tons of wood, brick, stone, windows, doors, cabinets and fixtures were donated to Habitat for Humanity. And it all added up to a 100% diversion rate."


What Makes It Green?



STRUCTURAL WOOD is coated with Eco Red Shield, an exclusive non-toxic, eco-friendly chemicals that protects against mold, wood-rot, termites and fire.

WINDOWS AND DOORS by Goldbrecht are made from high-quality aircraft grade recycled aluminum. All units in this project have a thermally broken profile for improved energy performance, along with dual-insulated, Low-E glazing and multipoint locking hardware.

SPRAY FOAM hybrid insulation by Henry reduces heat transfer and thermal bridging, at the same time deadening sound transfer from outdoors or between floors. This company also provided the EnviroWhite roof coating.

LED LIGHTING by Revlite reduces energy consumption by 85% when compared to traditional lighting sources.

VENTILATION FANS from Panasonic operate quietly to replace stale and polluted indoor air with fresh outdoor air.

POWER STORAGE from GESS (Global Energy Storage Systems) is a lithium-ion based solar battery bank, requiring no maintenance and designed to last for up to 15,000 charging cycles (about 40 years).

CISTERN An underground 5,000-gallon rainwater harvesting tank from Bio-Solutions and Orenco Systems will supply all of the needed water for irrigation.

IRRIGATION SYSTEM This computerized irrigation controller from Rainbird factors in historical and real-time weather data—then applies an optimum watering program for the landscape.

FIBERGLASS POOL Unlike concrete, the pool from Barrier Reef won't require harsh chemicals to keep water clean, nor will it crack and require periodic replastering or repair.

VARIABLE POOL PUMP A variable-speed pool filtration pump from Pentair should save more than 40% over standard pumping systems.

WATER-SAVING FIXTURES AND FAUCETS include a waterless urinal, touchless faucets and water-saving toilets and vanities from Kohler.

COUNTERTOPS ECO by Cosentino tops are composed of 75% post-industrial and post-consumer recycled raw material.

CONCRETE TILES from Smith Laredo Tiles are manufactured in a manner that is less energy intensive—yet maintains a high finish quality and durability.

CONCRETE COATINGS in PUNCHouse are low-VOC products from IMRAE that protect and maintain concrete surfaces to keep them free of staining and dirt buildup.

FURNITURE in the house comes from Herman Miller, products that are sourced and created with sustainability in mind.

WINDOW COVERINGS from Hunter Douglas have a cell-within-a-cell structure that provides more than double the energy efficiency of a window. They also can be operated remotely.

PAINTS Zero-VOC products from Sherwin-Williams Harmony are used throughout the home.