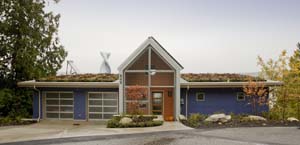 UNDER NORMAL CIRCUMSTANCES, it would be hard to imagine a home on this site, high atop a cliff, surrounded by breathtaking views. But neither this home, known as the Zero Energy Idea House, nor its
architect, are of the average variety.

"It's self-evident that this design is saying 'I'm a different kind of house,'" says architect David Clinkston. "That was the intention—that you see the green roofs, PV panels, solar hot water panels and vertical axis windmill. These are all visible from the road. A 'green wall' at the main entrance (to reduce afternoon solar gain) is another clue that all is not 'normal' with this house." The wall is a galvanized steel grid that will provide privacy when vines grow over it.

Not every aspect of the home's infrastructure is obvious, of course. The structural insulated panel (SIP) structure sits atop concrete grade beams that thrust back into the steep slope, and the below-grade wall at the back of the house was poured into ICFs.

The house is heated with a Warmboard radiant floor system—wood panels coated with reflective aluminum.
"That aluminum skin is thick," Clinkston says. "with grooves that direct the heat exactly where you want it."

Advanced Engineering
The architect took the owner's interest in "seeing the bones" of the home seriously, specifying a steel frame as the carriage for the SIPs.
"I'm quite comfortable using steel in residential projects," notes Clinkston, "thanks to a background designing train stations and ferry terminals."
Although the home's complex site engineering was more costly than most projects, it's not an ostentatious floorplan. At just 1,630 sq. ft., it's small for its class. And fortunately, the architect notes, the soil
bearing capacity on the steeply sloping ground was quite high.
"We only had to go down eight or ten feet with the piles," he notes. "But this site was in a critical area, so we had to be very thorough. We had a landscape architect, wildlife biologist and an arborist, and came up with a mitigation plan. We even removed all of the non-native species."
"By intercepting and collecting a lot of the rainwater from the roof and other surfaces, and directing it to a 3,000-gallon cistern," he explains, "we're actually making the soils more stable."
Clinkston notes that the home's green roofs help mitigate the habitat lost by building on this pristine site, by slowing the flow of stormwater runoff.
Both the owner/builders and the architect went to extra lengths to source products and materials from within a 500-mile radius. And they have opened up the house to visitors, as a showcase. The owner, Donna Riley, has given personal tours to about 3,500 people so far.
"This was an incredibly ambitious project," Clinkston adds. "We tried to really do it right. The main story is the superior thermal envelope, of course, but the project's other goal was demonstrating the principles of low-impact development by way of a compact footprint."