THE PARTNERSHIP BETWEEN Dow Chemical Company and Michigan-based Cobblestone Homes began with a chance meeting at a lumberyard, when a Dow rep invited Melissa and Mark Wahl to a seminar on building science. In 2009, the companies collaborated on the Vision Zero House, a demonstration project that won the Gold 2011 EnergyValue Housing Award. That same year, they broke ground on a second net-zero energy home, but upped the ante.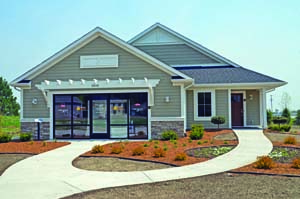 "We wanted to build a zero-energy home that was affordable," says Melissa Wahl, Cobblestone's co-founder and vice-president. Employing a WaterFurnace geothermal heating and cooling system, 6.1 kW worth of Dow POWERHOUSE solar shingles and an advanced building envelope, InVision Zero uses 60 to 70 percent less energy than a conventional home.
Built in Midland, Michigan, the traditional-looking house features 2'x6' framed walls filled with 5" of Dow closed-cell spray foam; one inch each of Dow Structural Insulating Sheathing (SIS) and Dow Tongue-and-Groove Styrofoam ensure a complete thermal break. DOW brand construction tape, sealants and adhesives and triple-paned Paradigm windows complete the airtight package. As did its predecessor, this 1,556-sq.-ft. home served as a teaching tool, hosting tours, trainings and hands-on demonstrations.
The Wahls began buying, remodeling and selling homes right out of high school and launched Cobblestone Homes in 2001.
"We help clients invest in homes that are durable, healthy and aesthetically pleasing," says Melissa. And affordable. Cobblestone built the InVision Zero project for $250,000, just under the median selling price of the average American home.