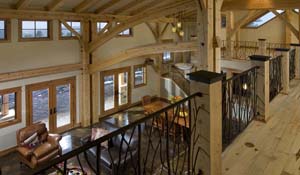 ALTHOUGH YOU CAN'T tell from the finished product, this 3,012 sq. ft. home in Livermore, Colorado, has a skin of SIPs, and a HERS rating of 24.
Architect Mark Queripel designed the house, which is Certified LEED-H Gold, to incorporate a wide array of green features, including poured concrete floors with in-floor radiant heat, beetle kill pine flooring and high-performance windows from Serious Materials.

"The remote site proved to be the most challenging component of the home," says Queripel, "but our team worked together to create a house that optimizes energy efficiency and the indoor environment—yet is unassuming and inviting."
Project Team
Architect: MQ Architecture & Design, Boulder, CO
Builder: Merten Construction, Boulder, CO
What Makes It Green?
One of the advantages of this home's luxury budget was the ability to do things right from siting to finishes.
Siting The house is oriented 12 degrees off the east-west axis, based on true north. This orientation was established as optimal for solar gain.
Underpinnings Instead of a full foundation, the home is built above a conditioned crawl space that is insulated with 4" to 6" of closed cell foam on the interior face. An air barrier over the gravel floor of the crawlspace mitigates radon passively.
Envelope Exterior walls consist of 4.5" (R-24) SIPs, with 6.5" (R-47) SIPs for roofing. The envelope is also wrapped with Tyvek (behind wood siding) and felt paper behind stucco areas. The roof is made from reclaimed concrete tile.
HVAC In-floor radiant heat is installed throughout the house (six zones), and the evacuated tube system on the roof supplies about 80% of the home's heating needs—along with all of the domestic hot water demands. A Broan HRV, along with a Tamarack whole-house fan, supply all seasonal ventilation requirements.
Alternative Energy A 680-watt grid-tied PV array charges an Outback SmartRE battery backup system. Relatively small in output, it's designed primarily as a backup in case of power outages.
Electrical & Lighting The key environmental aspect of the lighting is the use of natural daylighting, supplemented by compact fluorescent.
Interior Finishes Concrete flooring is colored with Terrastain, a water-based floor finish. Benjamin Moore Natura coating is used as wall and ceiling paint, with Land Ark finishing oil used to coat the timber frame.
Kitchen & Bath All cabinets in the kitchen and baths are built with FSC lumber, with no added formaldehyde in the plywood boxes. Faucets are low-flow models, and all toilets are Water Sense certified. Countertops are made from locally sourced flagstone and tile. All appliances are Energy Star rated.
Landscaping & Exterior Features Outdoor areas were re-seeded with native grasses. Exterior patios are made from concrete pavers and all parking surfaces and walkways are gravel—not pavement—to allow for natural percolation. All lighting is pointed down to minimize light pollution.