ON A QUIET street in Edmonton, Alberta, three Canadian homes are testing the limits of sustainable technology. In each case, the building envelope took precedence.
Products
ROOFING: 12/12 roo fslope (solar-electric system)
STRUCTURE: ICFs, EnerGard wall system

SIDING: Custom-bent horizonal lap steel siding, concrete window wells

INSULATION: 12" engeineered walls with expanded polystyrene (EPS), Plasti-fab Advantage Insulating Concrete Form, recycled cellulose fiber and batt insulation in attic
AIR CONTROL: HRV
WINDOWS: Triple-pane, low-E, argon gas-filled glazing with insulated spacers between panes

HEATING: Air-source heat pump, high-efficiency wood-burning stove (backup heating source), on-demand tankless water heater
APPLIANCES: Samsung induction range, Panasonic microwave, LG Counter Depth refrigerator, Bosch dishwasher, LG washer, Vent-A-Hood range fan

FAUCETS & FIXTURES: Dual-flush toilets, low-flow faucets
CABINETS & TOPS: Quarter-sawn oak cabinetry, site-built concrete countertops with recycled glass
CLEAN FINISHES: Mythic
ALTERNATIVE ENERGY: Sanyo 12.5 kW solar PV panels (58)

FLOORING: 4" structural concrete slab, diamond-polished of passive solar heat storage
LIGHTING: LED and CFL
PAVERS: Wooden stepping blocks made from slices of tree from neighboring lot
First, the similarities: all homes have 4" of polystyrene foam (R-16) under the basement slab, triple-pane, argon-filled windows with low-E coatings and passive solar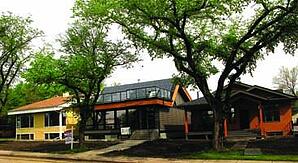 design. Differences: two of the three homes feature a Nascor wall system that achieves (about) R-48. The other home has a double-wall frame, achieving R-56. Each house has one of three different heating systems: electric baseboard, geothermal or air-source heat pump. The builder estimates that achieving net-zero performance with the middle home design required an extra 7% or 8% in costs, which included everything except the solar panels. The two homes on each end sold quickly, and the middle house just went on sale.
Tour It!
PROJECT: Belgravia Green NZE Home
LOCATION: Edmonton, Alberta, Canada

---
BUILDER: Effect Home Builders
---
---
LANDSCAPE: Jeanette Boman
---
PHOTOS:Les Wold