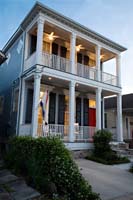 When it comes to remodeling 100-plus-year-old homes in New Orleans, Southern Homes' Chris Kornman notes that deconstruction has been the critical first step of every project. "A lot of these homes are former rentals, and often they haven't been renovated in decades and have a lot of problems," he says.

Rather than band-aid these issues, Kornman and his team strip the interior of the home, leaving only the exterior walls. What can't be reincorporated into the home is then donated to either Habitat for Humanity or Green Project, a local entity with a similar mission for use in current projects.

In the case of Annunciation, a 1,400-square-foot house built in the late 1860s, the homeowner of was at a crossroads; she needed more room but loved her neighborhood and didn't want to move. She also wanted her home to be far more energy efficient as she was spending $300 month to air condition it during the summer but could never cool it below 80 F.

"She could never make it comfortable," Kornman says. "Today, she's got a super-tight house and despite our doubling her square footage, her summer energy bill has dropped to $130 a month."
In uptown New Orleans, most homes are built on piers that raise them about 3' off the ground. To accommodate the addition of a second floor, Kornman had to repair the concrete piers and new ones to handle the additional weight. The next step was reinsulating the entire house, including applying foam insulation to the attic ceiling. "You're talking a space that can be as hot as 150 F on a summer's day, and turning it into a passive conditioned space," Kornman says. "The attic stays much cooler—varying about 10 F from the temperature inside the home—and the air conditioning unit that's up there runs far more efficiently."

Kornman also upgraded all of Annunciation's windows, turning to Energy Star windows as replacements, and notes, "One of the things about New Orleans is that the elements people love are the things that make these old structures incredibly energy inefficient," he says. "For instance, people love that old single-paned glass that appears all wavy when you look at it from certain angles, but those windows actually double their energy bill."

"It's the same with the 12' ceilings in these houses," Kornman continues. "They like the 10' windows and 8' doorways in these homes, which were built to allow the wind in to help circulate the air, but by today's standards they are inefficient. The problem is, aesthetically, these are exactly the elements people want. So by really focusing on sealing the housing envelope, we're enhancing the potential resale value of the home, by being able to maintain these features while making the home function much more efficiently."

In addition to tightening the home, Kornman says he relies on low- or no-VOC paint, low VOC adhesives, and—recycled material aside—uses only no-added-formaldehyde building products. "Every step of the way, as we reconstruct the home, we're going to put something in that was healthier than what was there," he says.

On the recycled material front, Kornman spoke particularly of the bricks and the ancient pine wood floors found in an old New Orleans home. Many of the homes he's worked on have had three or more fireplaces, one which was once dedicated to cooking, while the others served to heat the home during the winter.