THIS CUSTOM HOME outside Portland, Oregon, is one couple's dream. It's not a "purist" project in the sustainable sense, because the owners had specific tastes that had to be balanced with sustainability.
Products
ROOFING: 60 mL greay TPO roofing
STRUCTURE: Advanced framing, strapped wall system to reduce thermal bridging of the exterior envelope
SIDING: FSC cedar
INSULATION: Closed-cell spray foam, rigid closed-cell polyiso foam boards for underslabs and roof, blown-in JM Spider
AIR CONTROL: Lifebreath HRV
WINDOWS: Loewen triple-pane exterior windows
HEATING: Daikin Altherma air-to-water heat pump water heater
APPLIANCES: Inductive cook top, Energy Star kitchen appliances and clothes washer/dryer
FAUCETS & FIXTURES: TOTO dual-flush toilets, front-loading washer, Hansgrohe sink fixtures
CABINETS & TOPS: 100% FSC (mostly local) hardwoods, walnut and Douglas-fir, formaldehyde-free cores, Cambria countertops
CLEAN FINISHES: OSI GreenSeries low- and no-VOC caulks and sealants, 100% VOC-free paints and stains
PAVERS: 2'x2' concrete pavers on lower terrace
LIGHTING: mostly LED; some CFL, some linear flourescent
ALTERNATIVE ENERGY: 12.5 kW Sanyo HIT PV (220-watt solar modules), plumbed for electric car charging stations
More daylighting, for example, required more window glass. The home is roomy, at 4,209 conditioned sq. ft., although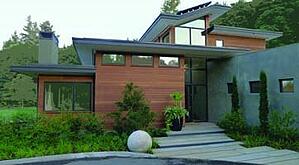 the architect cleverly stacked the floors to minimize the building's footprint on the site. Even with spray foam insulation and air infiltration tolerances of less than 1.8 ACH/50, the home isn't quite energy neutral, with a HERS score of 9.0. It still produces about 3.6 tons of carbon per year, according to an Earth Advantage Institute analysis. A solar array with 12.5 kW capacity is almost enough to supply the home's total electrical demands. The plan is to monitor a year of occupancy and adopt strategies that will further reduce the energy use—including possible addition of more PV or another renewable power source.
Tour It!
PROJECT: Skyline Drive Residence
LOCATION: Portland, OR
---
ARCHITECT: Nathan Good Architects
---
BUILDER: Don Young & Assoc.
---
LANDSCAPE: Cynthia Woodyard
---
INTERIOR: Lydia Peters
---
PHOTOS: Nathan Good