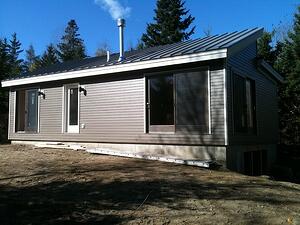 Patricia Wheeler's new house literally unfolded before her eyes. The artist lives on Deer Isle, a small island off the coast of Maine. Blu Homes designed, built and delivered her steel-framed, energy-efficient dwelling.
The pre-fab company constructs homes in its Vallejo, California factory, and delivers them to home sites around the country. Hinges allow the steel structures to fold and unfold, making transportation more efficient. The factory setting helps minimize waste and avoid pesky weather delays.
For more details on this project, please visit our Magazine Archive and view our May 2013 issue.
Up to 70 percent more efficient than comparable conventional models,
Blu Homes modular dwellings come straight from the factory.