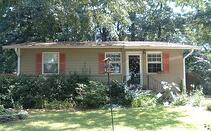 This update and expansion of a small ranch home featured extensive reuse of existing materials and an emphasis on remaining consistent with the context of the neighborhood. The house BEFORE renovation is shown here.


The challenges were twofold–the first was how to expand the home while keeping it appropriate to the context of the small homes that surrounded it. Toward that end, the architects focused on adding to the rear of the structure, using the slight rise on the lot as an asset. But that led to grappling with a second challenge – creating an addition while preserving the 150-year-old tree that stood behind the existing house.

For more details on this project, please visit our Magazine Archive, and view our January 2011 issue.